This week, keys have been popping up everywhere.
On Tuesday, I had coffee with a friend of mine. She told me of two separate incidents that involved keys:
The first was where she had moved into a new house. She found a key lying on the floor, but it didn't fit anywhere. It didn't open any door or a cabinet. It seemed like it was just a random key, that she found in an empty house.
The second incident was when a friend gave her a necklace, and around it was a key. She's been wearing that necklace for a long time now.
Later that afternoon, I drove through Marina Martinique and browsed through the Honesty Library for books to read.
I grabbed the first few books I thought would be interesting to read, not paying attention to the covers of the books. When I got home, I had a good look at them and saw that one of the books I had grabbed was by Sarah van Vuuren, called Closer. This was the cover of the book – beautifully illustrated and gave it a vintage kind of feel to it, even though it had been published recently: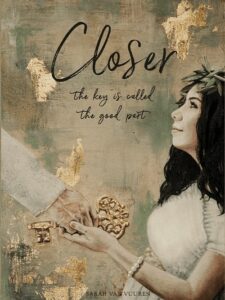 I thought, 'That's interesting. Something's going on here…'
The very next day, I was at GLA, the school building that we use for JSSM & The Creative Community. I had been struggling for two weeks now to get a key to the one room that we'd been using. 
I spoke to the security guard and explained my dilemma. I felt a bit desperate, for I wasn't getting a solution to my problem.
He listened attentively. He remained silent for a while, thinking of ways he could help me. Finally, he responded: 'You know what? I've got a copy of the master key; I'm going to give that key to you.'
He reached for his pocket, pulled out all the keys to the building, and removed the master key. 
'This is yours. This key opens up all the doors to this building.'
I was awestruck by the favour and breakthrough that had been granted me.
That very same evening, I shared my testimony with the JSSM students. One of the students replied to my story, and said, 'You found what you were looking for because you went looking for it.'
That is so true. God hides things – not from us, but for us. He wants us to seek Him out, seek out the keys to solutions, and favour will follow. 
What are some of the areas in your life where you need a breakthrough? Take this testimony, and declare it over your life. Sometimes you need only one master key that will open up all the doors to the favour and breakthroughs you've been contending for. Just one key can make all the difference in the world.
*

*