Vicki recently moved to Jeffrey's Bay, and she was looking for a network of creatives that regularly comes together to spark and inspire one another. She couldn't find anything like that, so Vicki decided to establish The Creative Community (formerly called JBay Creatives).
Creative workshops will be hosted in Jeffrey's Bay and the surrounding areas, but hopefully it will be all over the Eastern Cape soon. Vicki is a writer herself, and one of her first workshops that she will host will be focused on creative writing. Almost every second person that Vicki meet – upon hearing that she's a writer – tells her that they would love to write as well, but don't know where to start.
Numerous of Vicki's articles have been published in magazines, newspapers and online websites – nationally and internationally. She did a writer's course over the internet for 2 years, and she now has her own column 'Vicki's Voice' in Kouga Express, a regional newspaper. With her creative writing school, Vicki will share practical tips on what worked for her throughout the years. and there will be fun activations to be done as well.
This writer's course is designed for everyone, but for now Vicki will focus on high school students, retired people, church members, and creative young adults.
Writing is a powerful therapeutic tool. Vicki started writing in high school, and it changed her life tremendously. Her prayer is for others to learn the same tool and to gain healing and a new perspective.
The costs involved will depend on which area it is hosted, if it's high school students, retirement villages, churches, book clubs, etc.
The Creative Community is on Instagram and Facebook.
People can contact Vicki at creativecommunitysa@gmail.com for info on the creative school.
*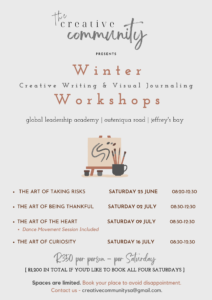 *
*
FORMER MISS DEAF SA LAUNCHES CREATIVE WRITING SCHOOL
The Herald
31 May 2021
'Former Miss Deaf SA and motivational speaker Vicki Fourie has launched a creative writing school in Jeffreys Bay.
An avid reader and published author of the books Viva La Vicki and God Lief My, Fourie has big plans for the small town and has also set out to do motivational talks at schools and churches.
In 2009, Vicki was crowned Miss Deaf SA, and in 2010 she won the title of first princess at the Miss Deaf International in Las Vegas, USA.
"My heart is for my motivational talks to encourage and uplift people in these trying times, especially with Covid-19.
"I spoke at a high school in Jeffreys Bay recently and it was heartbreaking to see how the young people are living in anxiety, depression and panic attacks," Fourie said.
Recently Fourie, 31, also presented motivational talks at the Global Leadership Academy and WavePoint Church in the surfing town.
Her motivational talks touch on her own life experience and how she overcame her struggles as a deaf child in a normal school.
"At the age of 14, I was involved in a shooting accident, and I fell into depression afterwards. I had panic attacks and almost committed suicide.
"I share with them how I overcame my struggles as a deaf kid in a hearing school, doing ballet, drama [and] dancing.
"With the high school kids the topic is 'Courage isn't a gift; it's a decision', and I share with them how I overcome my depression," Fourie said.
Having recently moved to Jeffreys Bay, Fourie said she had been looking for a network of creatives who could come together to spark and inspire each another.
But she could not find what she was looking for so she decided to establish JBay Creatives.
"I am a writer myself, and it can be a lonely and isolating experience. One of my first workshops will be creative writing, as that is the area in which I have the most experience.
"Almost every second person that I meet — upon hearing that I'm a writer — tells me that they would love to write as well, but don't know where to start," she said.
The writing course will be presented in both Afrikaans and English and will run over five weeks.
She also hopes to make the course available to those living in the neighbouring towns of Humansdorp, St Francis Bay and Gqeberha.
Budding writers will learn how, what and when to write and the course is designed for high school pupils, retired people and creative young adults.'
*