In my early twenties, I saved up money so I could tick off two things on my bucket list: Israel and Masada. I booked my tickets with the Lééf magazine tour group, and in early 2012 I set foot on Israel soil.
Initially, I was disappointed by the whole experience. So I never wrote about it and I rarely talked about it. I pushed it to the back of my mind, and almost completely forgot about it. Recently, I came across a photo album of photos taken during this tour, and I also found journal entries I had written during my trip there.
And then I remembered.
What had really happened.
Now, as I look back, I am looking at this trip through fresh, renewed eyes, and this is a spiritual account of my tour to the Holy Land.
*
This trip is claustrophobic. It's not yet peak season, but there are already masses of crowds gathered at every historical site. There's not enough space. The multitudes of tour busses stack up at each and every biblical location. The humming buzz of noise is in the air, and it is difficult to find peace and quiet within.
And so many churches. Too many of them. It overwhelms me. Roman Catholic and Greek Orthodox churches, Jewish synagogues, Muslim mosques. They are massive, giant, impressive. At first, it is beautiful and breath-taking. But then it becomes repetitive.
I did not come to inspect the man-made institutions.
I am looking for the genuine, the original.
After the first few days, I am convinced I won't find it.
Then, to my surprise, I find it.
At En Gedi, which means oasis, we come to a freshwater spring. I drink from it and as I look up, I see the caves in the mountains where David hid from Solomon. It is also in one of these caves where David cut off the corner of Solomon's robe. Immediately, I am taken back to that time, and I can feel how lonely and frightening it must've been for David. I think of all the Psalms he wrote, describing his pain, fear, and isolation.
At the Pool of Bethesda, which is also called House of Mercy, I get lost and wander off on my own. Legend has it that that 'a great number of disabled people used to lie there—the blind, the lame, the paralyzed.' An angel would come and stir the water, and the first person (to go) into the pool after the stirring of the water 'was made well from whatever disease with which he was afflicted.' Jesus visited this Pool one day and healed a 38-year-old paralyzed man. I find a quiet spot and take a leap of faith; I touch the water. I wonder if I would get healed. Nothing happens.
At the Garden of Gethsemane, I expect to find a forest of olive trees. I am sorely disappointed. Instead, most of the trees have been cut down and there's an enormous Catholic building sitting on top of it. I have to imagine hard that this is where Jesus cried tears of blood just before he was arrested. I keep on trying and trying until I can finally imagine Jesus walking there.
We take a boat out onto the Sea of Galilee; it is raining lightly and it's misty. Our Jewish tour guide reads us a passage from Matthew 14:
'The boat was already a considerable distance from land, buffeted by the waves because the wind was against it… Shortly before dawn, Jesus went out to them, walking on the lake. When the disciples saw him walking on the lake, they were terrified.
'It's a ghost,' they said, and cried out in fear.
But Jesus immediately said to them: 'Take courage! It is I. Don't be afraid.'
'Lord, if it's you,' Peter replied, 'tell me to come to you on the water.'
'Come,' he said.
Then Peter got down out of the boat, walked on the water and came toward Jesus.
But when he saw the wind, he was afraid and, beginning to sink, cried out, 'Lord, save me!'
Immediately Jesus reached out his hand and caught him. 'You of little faith,' he said, 'why did you doubt?'
And when they climbed into the boat, the wind died down. Then those who were in the boat worshiped him, saying, 'Truly you are the Son of God.'
I am deeply affected by this passage. The whole boat is quiet as we imagine Jesus walking on this Sea.
The tour guide makes a joke to lighten up the mood: 'Who wants to try walking on the water?'
At the Jordan River, I get baptized for a second time. (The first time was when I was 12 years old) It is freezing cold and raining slightly. I decide to do it anyway, because when would I ever get such a chance again? This is the same river where John the Baptist baptized Jesus. The same river where a voice from heaven said, 'This is my beloved Son, in whom I am well pleased.'
When I went into the water, I begin shivering. I can't feel my body, that's how cold the water is. Halfway in I almost decide not to do it, but I keep going. The man pray for me, and as I am immersed in the water, a warm feeling shoots through my body. When I come up, I am not cold anymore.
I now wanted to swim in the river!
This experience is by far the most spiritual experience I will get to feel on this trip. Afterward, I buy a star of David necklace to commemorate this memory.
The High Priests' House is a deeply spiritual experience, as well. In the basement of this place is the cell where Jesus was kept awaiting his trial and execution. Our tour guide reads a passage from Psalm 88 and I am rocked to my core. The tears flow and I feel Jesus' pain and agony.
We also visit Jesus' grave – several of them, in fact. The Roman Catholics believe Jesus was buried at a certain place, the Muslims believe that Jesus was buried at a different place. Even the Greek Orthodox priests have their own burial place. At each and every place, people stand in long lines just to touch the place where Jesus' body was buried.
At first, I am confused as to where exactly Jesus was buried.
We visit Golgotha, the hill where Jesus was crucified. Nearby is a grave, where the Christians believe that this is where Jesus was buried. There is no line of people waiting to enter this place. At the back of the door, it is engraved, 'He is not here – for He is risen.' I see this, and remember how my grandmother loves to tell the story of this place; she had been to Israel a couple of times, and seeing this inscription was a deeply spiritual experience for her. And so I decide in my heart that this is Jesus' burial place. But it is not that important, because now He lives in my heart and goes with me wherever I go.
There is one man-made place that blows me away. One night, we get a special surprise from our tour leader. We visit the Tower of David in Jerusalem. It is freezing cold – I wear two pairs of jeans on top of each other. Earlier in the day, I bought a beanie and our bus driver gave me the most exquisite blue scarf, which I know I'll always wear. As soon as I enter the tower, my breath is taken away. The Tower's website describes the whole experience in the best way:
'KING DAVID show at the Tower of David Museum is a unique night-time experience, in which the majestic story of David, from shepherd-to-king, comes to life in an incredible cinematic production projected onto the walls and archaeological excavations of the ancient citadel.
The story begins 3000 years ago with the young and handsome shepherd boy in the fields of Bethlehem who is anointed by the Prophet Samuel. This young boy is also a courageous warrior, poet and gifted musician who becomes a resourceful leader. After the death of King Saul, when the Tribes of Israel chose David as King, he ascended to Jerusalem to establish his capital.'
It is not fully a Jerusalem experience if you haven't been to the Wailing Wall (Western Wall). It is packed with tourists; and there are Jews as well, praying for their Messiah to come. I do not experience anything spiritual there, but as soon as we go into the Western Wall Tunnel, I see Jewish people weeping in the aisles and tiny corners of this tunnel. My heart breaks for them; Jesus has already come, but they do not believe it.
Finally, I get to visit Masada mountain. I had read up on this historical place many times before; I've also seen films and documentaries about this majestic place. It is a surreal, scary experience – I hadn't realized that it was so high and steep. I have a wonderful time there, drinking in all the different areas of this mountain, hearing more facts about things I hadn't known before. I am happy and content that I can tick this second thing off my bucket list as well.
What I learn from this experience is that it's important to look above and beyond the physical things; instead, connect with your spirit and connect with the Holy Spirit. He will guide you in all things. It was great to go to Israel, but it was a much more enriching time to experience a spiritual connection to God, Jesus, the Holy Spirit, and the biblical stories told in Scripture.
I also came across an article titlted 'The 6 Fundamental Differences Between Religion and Spirituality.' It makes for an insightful read, especially when you've grown up in a religious household. While I don't agree with all the points, it really makes me think of when Jesus would rebuke the Pharisees in the New Testament. We as Christians need to always be aware that we don't become religious; instead, to have a living, personal relationship with God, Jesus and the Holy Spirit.
As I mentioned in the beginning of this essay, I kept a diary during my trip to Israel, as well as took photos.
Here is my diary – some of it in Afrikaans, most of it in English.
MY ISRAEL DIARY
Monday 12 March – Thursday 22 March 2012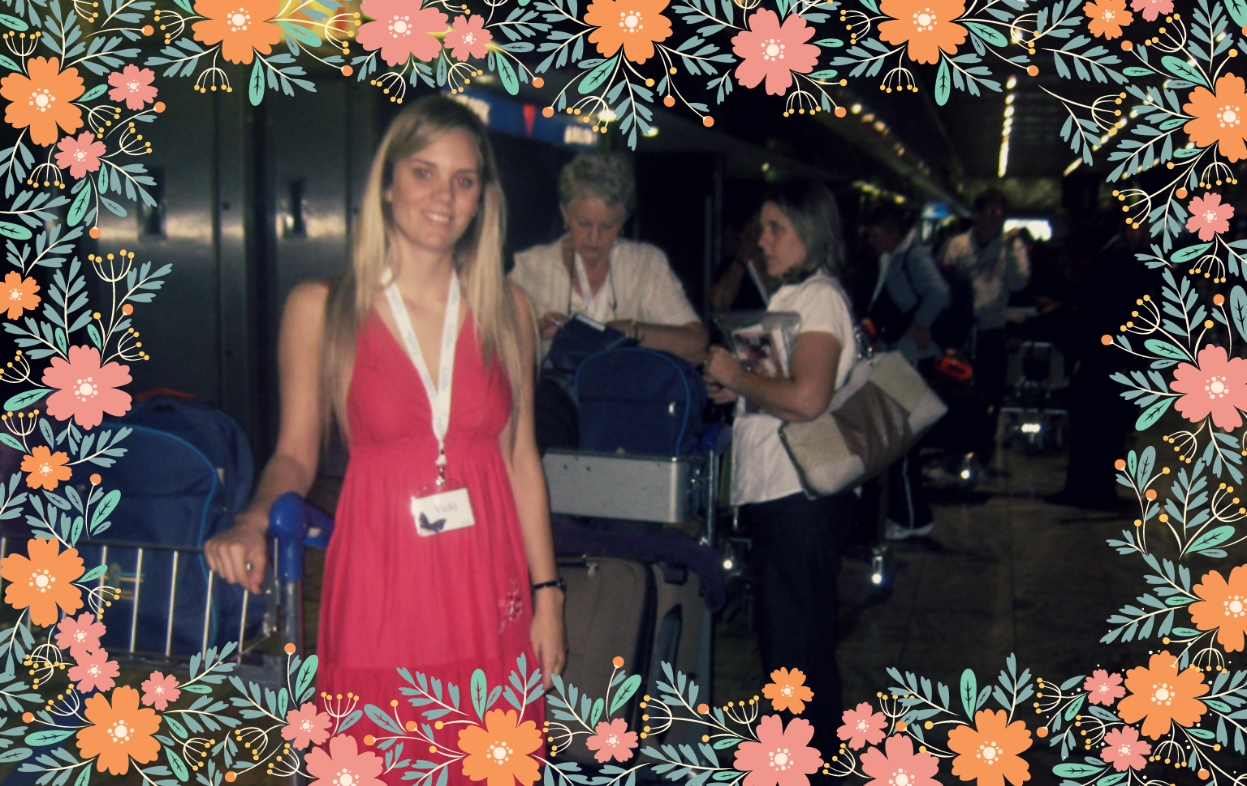 Monday 12 March 2012, 17:02
Ek word vanoggend wakker. Pa het die lig kom aansit ongeveer 05:30. Ons ry lughawe toe – kom so 06:45 daar aan (gelukkig geen kwaai verkeer!). Die Pelgrimstoere staan alreeds in rye. Almal wat saam met my gaan toer, is hier. Ons wag vir so meer as een uur voordat die rye begin beweeg. Sekuriteit is baie streng.
Ek en ma gaan koop 'n groot muffin en 'n tropical fruit koeldrank. Ons (ek, pa en ma) eet dit klaar. Uiteindelik kom ek voor in die ry. Ek groet my ouers, en daar gaan ek vir my sekuriteits-onderhoud.
Die vrou vra vir my allerhande vrae. Maar voordat ek dit doen, sê 'n man vir haar dat 'she reads lips.' Voorheen het ek vir Yvette – die vrou wat alles gereël het – ontmoet.
'Is jy Vicki?' het sy gevra.
(Ma het voorheen gereël date k moet altyd voor in die ry wees, naby die toergids, ens. om te verstaan wat aangaan).
Christine – ons toergids en die redakteur van Lééf – het ook vir my gevra: 'Is jy daardie Vicki Fourie?'
Terug by die sekuriteits-vrou:
Sy weet toe presies hoe om met my te praat. Sy is toe nou baie nice.
Maar die vrae was baie persoonlik:
Have you been to Israel before? Why are you going? Did you pay for yourself? What will you do in Israel? What is your occupation? Do you still live with your parents? When did you come to Johannesburg? How did you arrive? What kind of motivational talks do you give? Tell me, what kind of articles do you write? Which magazines? Were you born with a hearing problem? Do you have some kind of proof that you're Miss Deaf SA? (Thankfully, I had my pamphlet with me).
And then the last question:
'Did someone give you something and asked you to take it with you?'
I thought about that question, and said, 'No, I don't think so…'
She replied, 'Show me the notebook bags that they gave you.'
'Oh! I completely forgot about that! Sorry!'
She smiled. Right through our interview she had tears in her eyes after I had to practically tell her my whole story (!).
I went through baggage check, where I had to open up my bag and show all my electrical things. The woman who had interviewed me, had told him about my hearing. So he was really nice to me as well.
When I went to the black lady to get my tickets, she also knew about my hearing as well.
'She reads lips,' they said. Then one lady stood next to me and asked, 'What year?'
'My year of birth?'
'No, what year were you Miss Deaf SA?'
I said, '2009.'
'Oh,' they said in wonder. One of the security guys said, 'Can I take a picture?'
He did, and I went through. I was handled like a real celebrity. Oh, and that pamphlet that I had showed the interviewer? The lady asked if she could keep it. Can you believe it? The Lord's favour was already there – at security check-point!
*
As I sat at the boarding gate, the blonde woman next to me asked whether I had taken horse riding lessons before in Bloemfontein.
I said, 'Yes, Niel from Footloose Stables were my coach.'
She said, 'My oh my! He's my brother in law!'
'What a small world!' I said.
She trains horses in Hobhouse, a town near Ladybrand. Then she sells the horses to Niel.
The other lady next to me is from Oudtshoorn. Her son is in the Tempe army in Bloem, and we also talked about that a little.
What a small world!
*
Just before we were about to board, the pilot, co-pilot and his team walked past me! So cool to have seen them right before the flight!
*
Instead of boarding at 10, we boarded at 11:30. The lady who's sitting next to me is my roommate and even though she has introduced herself, I don't know her name yet. (Her name collar is in her suitcase)
She's quite nice; they're a family of farmers (Boere). And her farm is somewhere near Elisras, in Limpopo.
*
As we flew over the Red Sea just now, I couldn't help but notice just how big this sea really is… Is it really possible that You (God) divided this same sea just to save Moses and his people? If You (God) were able to do something this powerful and mind-blowing, surely you can bring healing to my ears?
*
My roommate told met a story this afternoon about her child's romance and how they had met their life partners. They were amazing stories!
'Elke pot het sy deksel,' she said.
She is very interesting, and full of the Spirit. She even gave me her window seat just so that I could see Africa, while we're flying during the day! Thank you for that favour, Lord!
*
10:46 p.m.
Ons is in Netanya se hotel!
Ek het pomegranate koeldrank gedrink, maar het gedog dis litchi sap!
Die bus drywer, wat Grieks is, het my gedruk en gesê ek is sy dogter. Hy sê sy dogter is ook 23. Ek is nou 'n bietjie honger, dink ek gaan daardie Chomp chocolate eet wat pa vir my gegee het…
*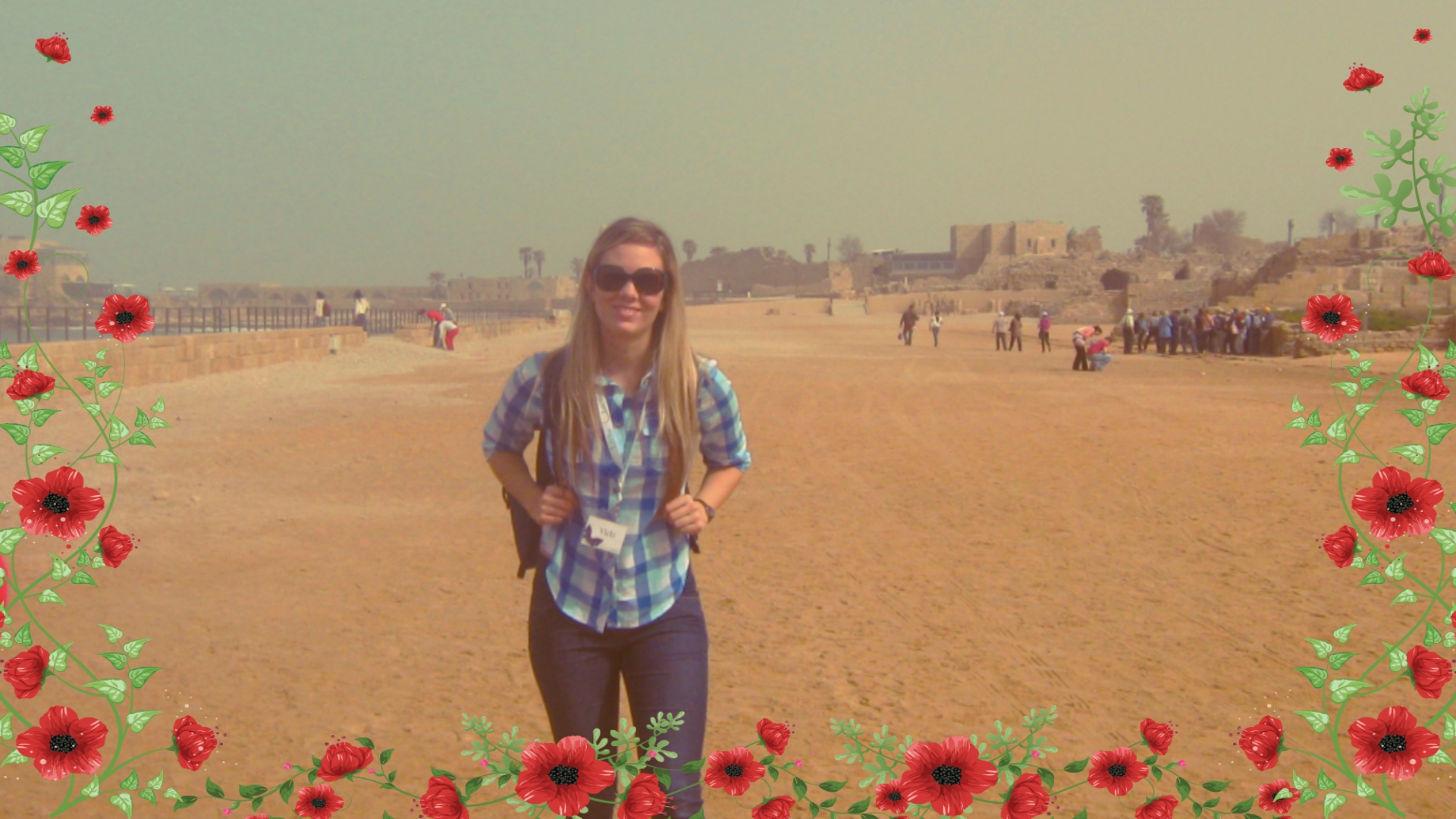 Tuesday 13 March, 08:06 a.m.
Vanoggend vroeg het ons gestap en gaan kyk na die Mediterranean Sea hier in Nentanga. Daar was 'n jong kat – Siamese met groen oë – wat vreeslik honger gelyk het. Hoe meer ek met die kat gepraat het, hoe meer het hy ge-miaau. Ek het 'n stukkie van my croissant (van ontbyt wat ek hou vir lunch) gegee. Hy het tog te hartlik geeët! (Ek dink dis omdat die smeer op die croissant 'n visgeur het!)
Ons gaan nou ry na die Sesarea!
Die weer is baie koel, maar ek dink dit gaan 'nb ietjie warmer word.
*
12:36 p.m.
– King Herod se paleis
– Amphitheatre en swembad
– Guards se palace
– 2x Wells & muur waar water vanaf die berg loop
– Mount Carmel – plek waar Elijah die Baalprofete doodgemaak het
Ons het sopas klaargeeët@ Snitchel in 'n pita brood. Dit was maar droog gewees.
*
2:10 p.m.
Ons het sopas die diep gat van Megiddo geloop! Ek het begin panic en wou nie verder gaan nie, maar ek het geweet ek moet deurdruk. Die grot was so klam en koud! En daar was ooral onder die asile vars water!
*
17:36 p.m.
Ons het in Nazareth ingery, en dit is maar 'n arm stad. Al die geboue is dieselfde kleur, dis oud en verniel. Ons het in die straat ingestap en die stad se kultuur gesien. Ons het die kerk van aankondiging gaan kyk, waar hulle glo dat Gabriël, die engel, het voor Maria daar verskyn. Die hele kerk en sy mure is vol prente waar hulle haar aanbid.
Elke land in die wereld het ook 'n prent van Maria geskenk. Suid Afrika s'n lyk die lelikste – Griekeland s'n is die mooiste.
Ons het na 'n sweets winkel toe gegaan, en die heerlikste swiets gekry!
Ek is uitgeput. Sien uit daarna om vanaand te gaan slaap.
Dag 2:
$10 Middag ete
$5 Sweets
= $15 in total
*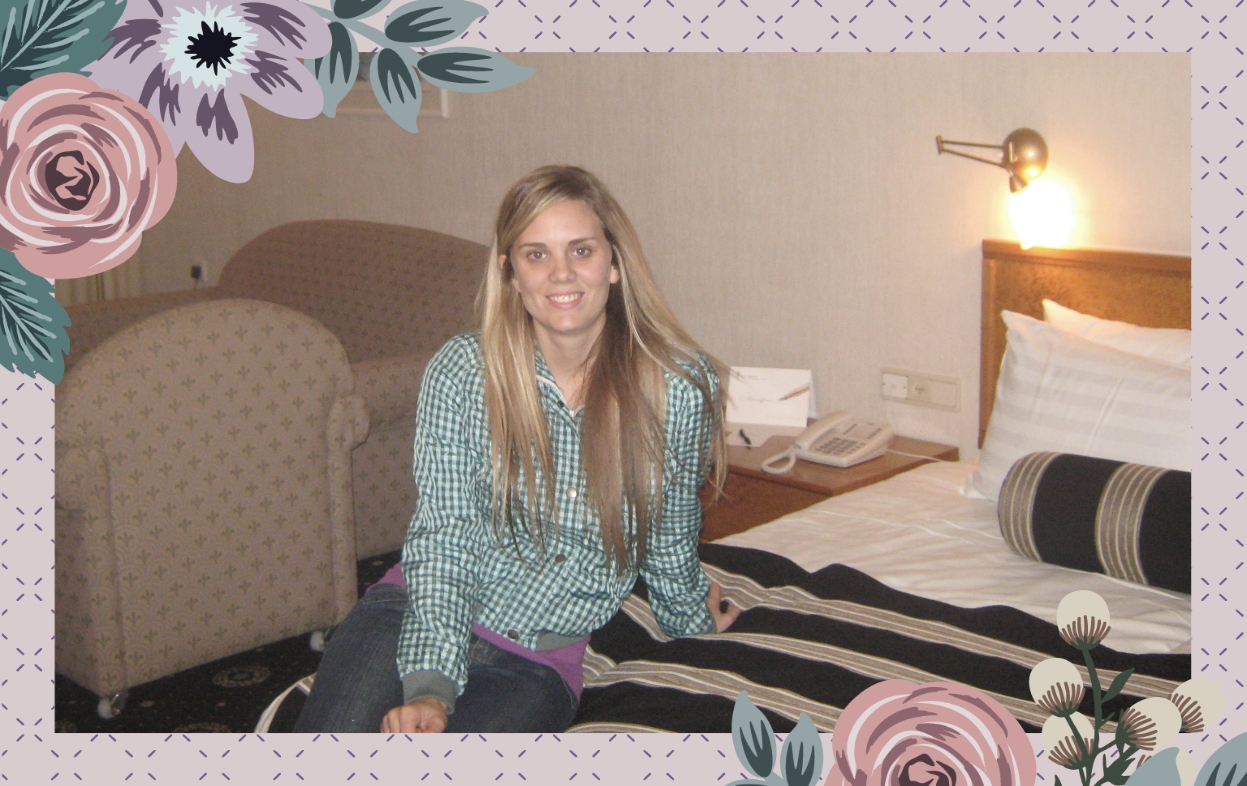 Woensdag 14 Maart 2012, 09:00 a.m.
Na ontbyt het ons vertrek na Cana, en die grond besoek waar Jesus sy eerste wonderwerk gedoen het. Hy het water na wyn verander.
Ons het met die trappe onder 'n kerk afgegaan, en die ou huis gesien (dit lyk maar soos 'n cellar – waar wyn gebere word).
*
10:01 p.m.
Ons het vanoggend op Berg Tabor gery – dit is waar Deborah in die oorlog geveg het. Oppad soontoe het ons in 'n quantum bussie opgery. Dit was baie woes en die quantum het maar rof gery. Toe ons bo kom, sien ek hoe hoog ons is. Daar bo het ek die Here se teenwoordigheid vir die eerste keer ervaar op hierdie trip. Daarna het ons 'n paar ander kerke besoek.
Uiteindelik het ons oor die see van Galilee gekom.
En hoe pragtig was dit! Ek het trane in my oë gekry toe ek dit gesien het.
U (God se) teenwoordigheid was werklik daaroor. Ek het my hande in die water gesit, end it geproe.
Dit het soos vars water geproe. Ek kan nie verstaan hoekom dit 'n see genoem word nie.
Ons tweede laaste stope van die dag was by die Mountain of Beatitudes. 'Beati' beteken 'blessing' in Latyns. Ons het nagmaal in die yskoue buitelig gehou. Ek het my effens vervies vir die vrou wat die beker vasgehou het – sy het baie Katolieks opgetree en gesê ek moet eers die broodjie eet (sy is ook deel van die groep) Daarna het ek op die bankie gaan sit en uitgekyk op die see van Galilee.
Die vroues het almal NG Kerk liedere gesing, en ek het nie saamgesing nie want ek ken nie die liedjies nie.
Toe die nagmaal klaar is, het Zindri se ma 'n kort getuienis gelewer. Sy't vertel van toe sy in matriek was, en haar oë het begin blindgaan. Sy het gered geraak kort daarna en gegaan vir haar eerste nagmaal. Die volgende oggend het sy in die spiel gaan kyk, en al die rooi in haar oë was 100% weg.
Sy kon 100% sien.
Die trane het vinnig by my opgespoor en ek het begin huil.
Die kleurling tannie wat langs my sit, het vir my 'n tissue gegee. Ek het lank daarna nog gehuil.
Dit gebeur so min dat mense se stories my aanraak, aangesien ek mos die koningin van inspirasie is.
Soos wat ek teruggeloop het na die bus toe, het ek die heeltyd gehoor hoe U my vra: 'Wil jy dit ook hê? Wil jy genesing hê?'
Die vraag was so duidelik dat dit te eenvoudig geklink het.
Vanaand kan ek antwoord en sê: 'Ja, Here! Ek wil dit vir myself hê! Ek wil hoor!'
Laat U wil geskied. Amen.
*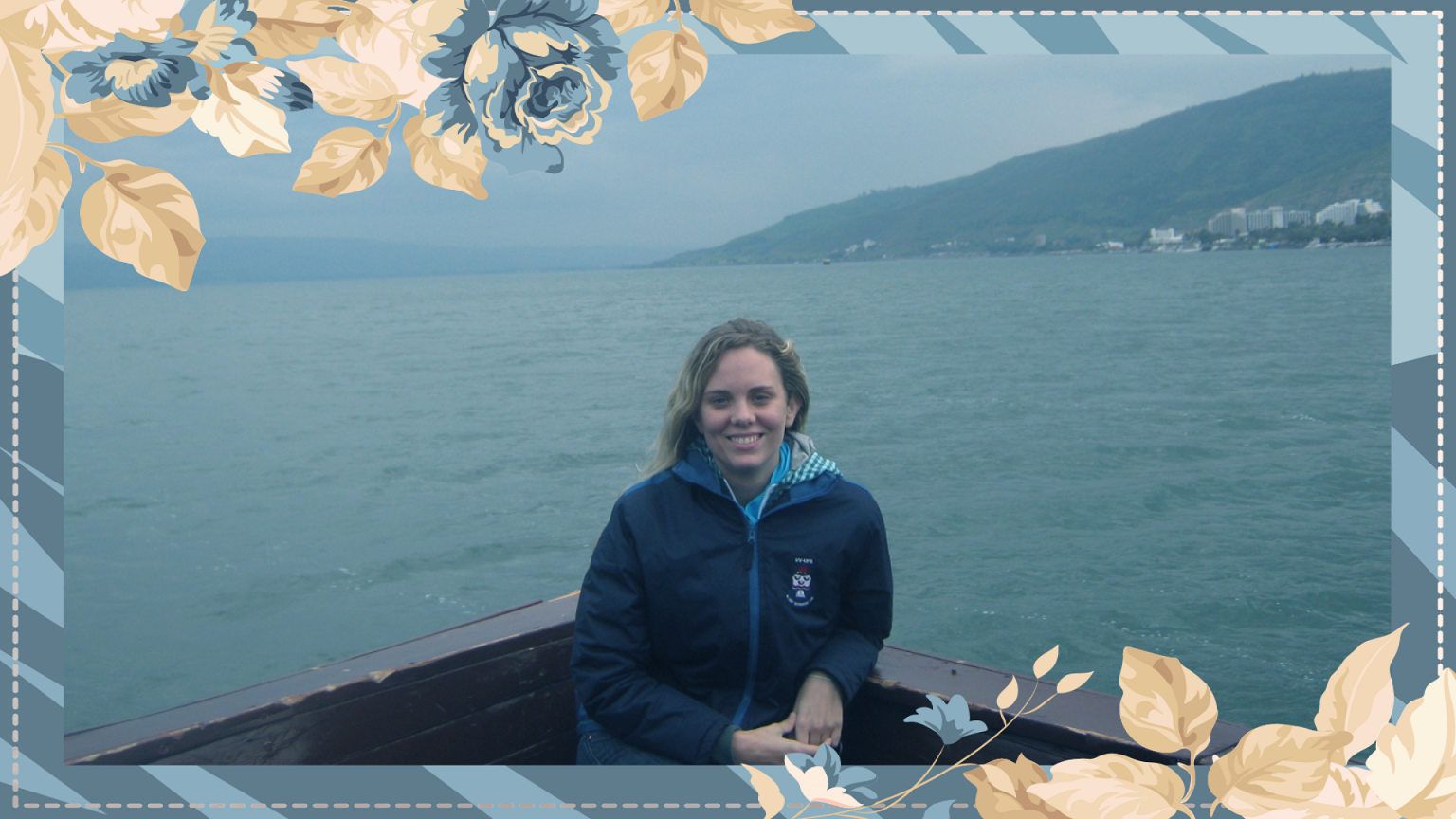 Donderdag 15 Maart 2012, 18:14 p.m.
Ons het vanoggend in die reën en koue die Jordaan Rivier gaan sien.
Ons het die eerste bron van oorsprong gesien. Daar is drie in total.
Hierdie een was asemrowend pragtig. Alexander the Great het 'n temple vir die pagan gode gebou. Daar is selfs 'n klein temple spesiaal vir die bokke gebou. Hulle sou die fluit speel terwyl die bokke dans. Meeste van die temple se geboue het lankal vergaan. Wat vir my wonderlik was om te sien, is dat selfs al het die temple vergaan, het die rivier nog tans bestaan.
Wat hartseer is, is dat Alexander en sy mense die afgode aanbid het terwyl daar net langsaan die grootste magdom gebeur het. Dit is waar Jesus gedoop was met die Heilige Gees. Daarna het ons die Yardonite besoek, waar ons kon besluit om gedoop te word.
Ek het gisteraand besluit om dit te doen, maar vanoggend was dit koud en reënerig. Ek het so gehoop dat daar darem 'n bietjie sonskyn sou wees. Toe besluit ek in elk geval om dit te doen, want wie weet wanneer ek ooit weer so 'n kans sou kry?
Toe ek in die water inloop, het ek begin bewe. Halfpad in wou ek eerder uitklim, maar toe hou ek aan om te loop. Die oom het vir my gebid en my onder die water gedruk. Onmiddelik het ek 'n warm gevoel gekry. Toe ek weer opkom, het ek nie meer koud gekry nie.
Ek wou swem in die rivier!
Toe ek uitklim, wou ek sommer weer gedoop word! Daarna het ek en die groep op die See van Galilee op 'n boottrip gegaan.
*
Vrydag 16 Maart 2012, 20:30 p.m.
Ons het vanoggend die Jordan Valley besoek, maar voordat ons deur sekuriteit kon gaan, het die toergids gesê dat ons driver is op die board vir security. Dus het hy gereël dat ons hoef nie deur security check te gaan nie!
Dit was net nog die 2de keer wat dit ooit gebeur het, die eerste keer was toe hulle (die toergids en die driver) 'n koning moes deurvat (die koning van Luxembourg). Daarna het ons Bethany toe gegaan en Lazarus se graf besoek.
Wat 'n belewenis!
Daarna het ons in Jerusalem ingery en die lied 'Hosanna' het gespeel. Dit was werklik 'n geestelike oomblik gewees.
Vanaand na ete het ons 'n Shabbats ete gevoer. Dit is werklik interesant om te hoor van die Joodse kultuuur en al sy dinge.
Daar is 'n paar dinge wat hulle doen wat baie belangerik is om aan te pas in die lewe, maar mens moet tog versigtig wees vir tradisie. Sodra iets oor en oor gedoen word, verloor dit sy betekenis end it beteken later niks meer nie. Dit is so gevaarlik…
Die Jode doen 'n ding waar hulle aan hul eie gebrokenis dink en dankbaar is oor hul eie lewens en hoe kosbaar dit is (ek dink dis die Feast of Tabernacles).
Dan die Shabbat wat hulle doen: net so belangerik om te verstaan. Dis amper soos Nagmaal.
Voordat die ma bid, steek sy die kerse aan en sit haar hande op haar gesig sodat sy die wereld afsny. Dan drink almal wyn om dankie te sê dat hulle nog 'n dag het om te lewe. En die brood is om dankie te sê dat God voorsien het vir die week wat verby is.
Pragtig!
*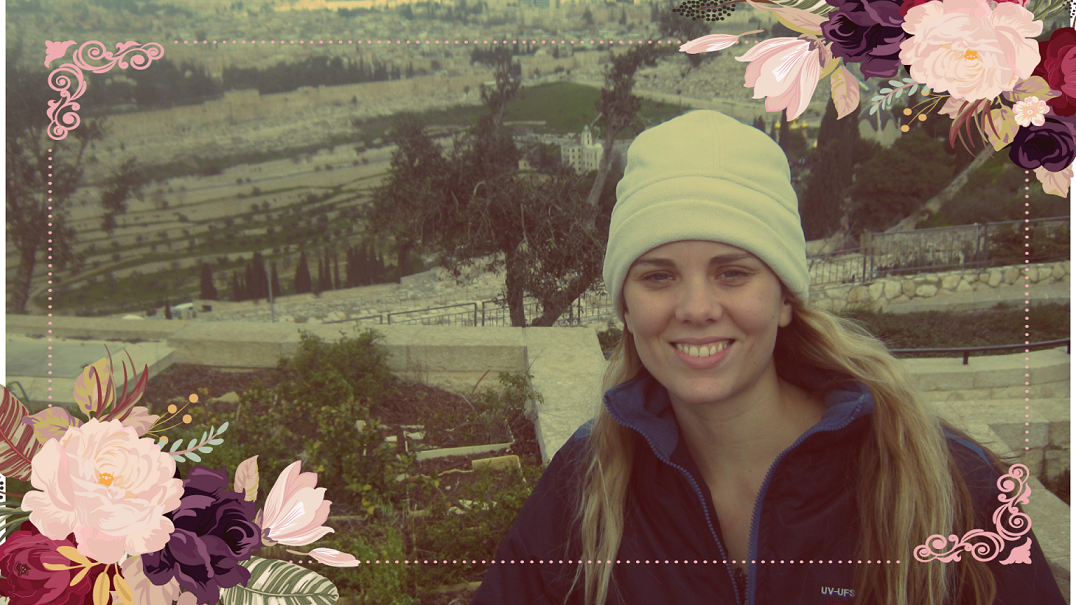 Saterdag 17 Maart 2012, 10:43 p.m.
Ons het vanoggend die mooiste uitsig van Jerusalem gesien. Die weer was maar ysig en ek was nie voorbereid nie. Ons het ook die Tuin van Gethsemane gesien, en ek moet erken ek was teleurgesteld. Daar was net 'n paar bome oor – die res van hulle is weggevat om die simpel Katolieke Kerke te bou.
'n Hoogtepunt was beslis toe ons die tronk besoek het waar Jesus oornag gehou is na sy arrestering.
Toe ons daar onder by die graf was, het ek begin huil. Die trane het geloop terwyl hulle Psalm 88 hardop gelees het.
'Lord, you are the God who saves me; day and night I cry out to you.
May my prayer come before you; turn your ear to my cry.
I am overwhelmed with troubles and my life draws near to death.
I am counted among those who go down to the pit; I am like one without strength.
I am set apart with the dead, like the slain who lie in the grave, whom you remember no more, who are cut off from your care.
You have put me in the lowest pit, in the darkest depths.
Your wrath lies heavily on me; you have overwhelmed me with all your waves.
You have taken from me my closest friends and have made me repulsive to them.
I am confined and cannot escape; my eyes are dim with grief.
I call to you, Lord, every day; I spread out my hands to you.
Do you show your wonders to the dead? Do their spirits rise up and praise you?
Is your love declared in the grave, your faithfulness in Destruction?
Are your wonders known in the place of darkness, or your righteous deeds in the land of oblivion?
But I cry to you for help, Lord; in the morning my prayer comes before you.
Why, Lord, do you reject me and hide your face from me?
From my youth I have suffered and been close to death; I have borne your terrors and am in despair.
Your wrath has swept over me; your terrors have destroyed me.
All day long they surround me like a flood; they have completely engulfed me.
You have taken from me friend and neighbour — darkness is my closest friend.'
Jesus, ek het U pyn gevoel wat U ervaar het toe U naby die uur van dood was. Dankie, Jesus, dat U reggekies het. Ek weet U het aan my gedink toe U in daardie graf was.
Ons het daarna Bethlehem toe gereis, waar die sekuriteit baie hoog was. Dit is vreemd om te sien hoe die jong mense in die army is.
Ons het die kerk besoek waar hulle glo Jesus se geboorte plek was. Toe ons in die kerk kom, was dit tjoepstil. Daar was 'n paar security arrangers wat kwaai gepraat het en gesê het ons moet in die regte orde staan en in die ry bly. Dit was baie skrikwekkend gewes.
Toe die Griekse Orthodox prieste inkom, het dit nog meer strenger geraak.
Hull het hul lampies geswaai en die geure oor die hele vertrek gelaat.
Net voor hulle verby my geloop het, het iemand geraas. Die ou priest wat voor geloop het, het geskreeu op hull, 'Quiet!'
Toe hulle verby my loop, het my hart woes begin klop. Dit was nie eintlik eers my hart nie, maar eerder die Heilige Gees. Dit het sterk kwaad gevoel en ontsteld oor wat hulle doen.
Here, ek kan nie dink U is tevrede met wat hulle doen nie…? Selfs met enige iets wat die godsdienstige mense doen…?
Dit is regtig ontstellend om te sien hoe hierdie kerke op al hierdie plekke gebou is.
Voorheen het ons die Tuingraf gaan besoek, en dit was 'n belewenis gewees. Werklik 'n hoogtepunt van die toer.
*
Vanaand het ons 'n wonderlike verrassing gekry! Die temperatuur was -2, en ek kon dit beslis voel! Ons het die Museum of David gaan besoek.
Wat 'n belewenis!
Dit was asemrowend om te sien hoe al die prente op die mure afspeel…
So oorspronklik!
*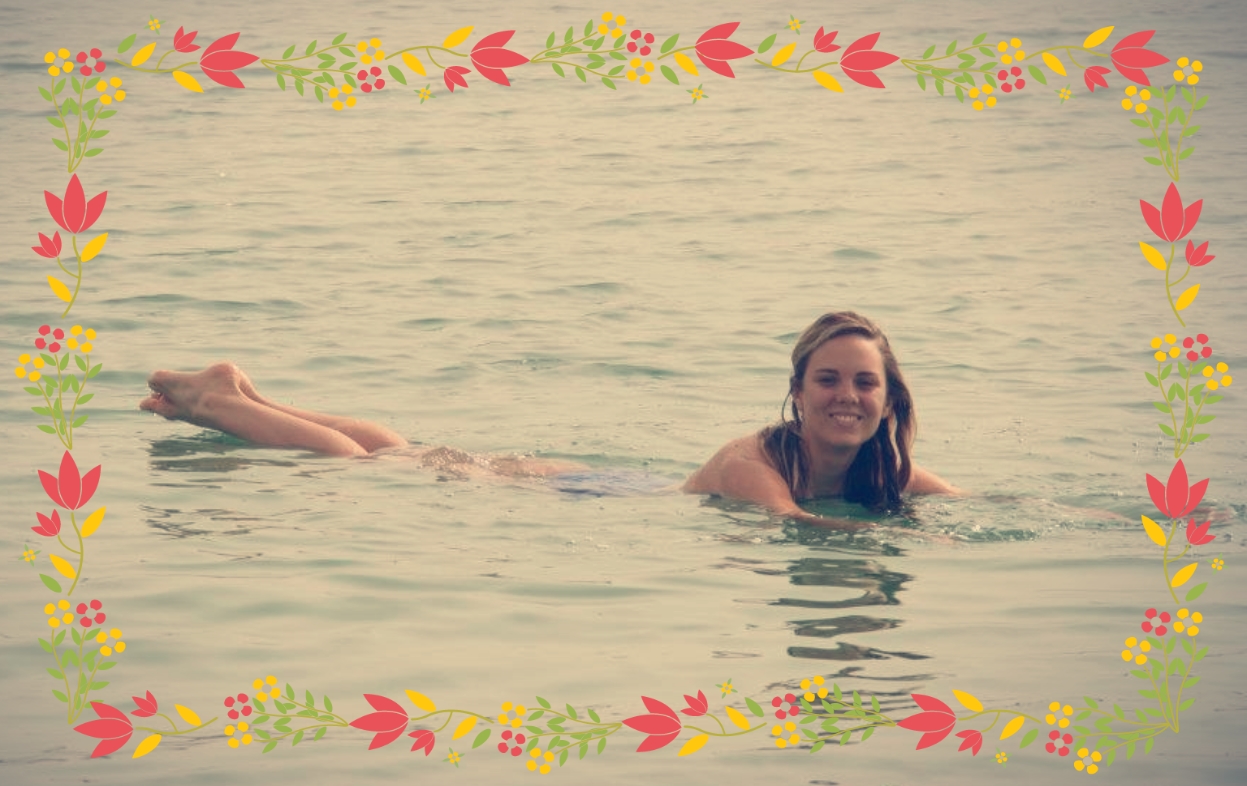 Sondag 18 Maart 2012, 20:40 p.m.
ONs het vandag die Ou Stad van Jerusalem besoek, en vanaand is ek skoon gedaan. Ons het die Westerse Muur besoek, maar dit was nie so besonders soos ek verwag het nie…
ONs het ook die Bad van Bethesda besoek, en dit was kosbaar. Dit is die pragtigste baddens wat ek ooit gesien het.
*
Psalm 56:8;
'You keep track of all my sorrows. You have collected all my tears in your bottle. You have recorded each one in your book.'
*
Maandag 19 Maart 2012, 10:08 p.m.
Ons het vanoggend die Holocaust museum beoske, end it was hoogs interesant. Ek het vergeet om die tyd dop te hou, en toe het die bus amper vir my weggery! Sjoe, dankie vir U genade!
*
20-22 March 2012
– No Journal Entries –
*
Lééf tydskrif published a report on this tour in their May 2012 issue: