'It is 365 years since the first Dutch settlers arrived at the Cape but no more than 180 years since Afrikaner nationalism gained momentum and barely 100 years since Afrikaans was formally recognized as a language.'
John Battersby
Yesterday I was at a restaurant, and as I was playing with my 2-year-old nephew in the kiddies' playpen, a bubbly 4-year-old girl came up to me and told me a story, 'I am on vacation now; my school is closed. My one friend now lives in Pretoria…'
She paused, took a breath and gave me a tentative look.
She added, '… And my other friend now lives in Australia. Australia is super far away from here. I will have to get on an airplane to go visit her.'
This remark made me realize the reality that we all live in today. Less than fifty years ago, you still had to take a boat to go to another country. In those days, when you emigrated, you couldn't really change your mind and decide against it. When you made a choice, that was it.
Emigration is the hot word on everyone's lips these days.
South Africans Are Leaving
Security and better opportunities are the two main reasons why people are leaving.
'City Press put the number of South African emigrants at 102,793 people over the past 10 years. Between 2016 and 2021, Stats SA expects 115,000 white South Africans to have emigrated.'
'The white population has shrunk to its lowest proportion, now accounting for only 7.8% of the total population.'
'Stats SA showing that over 430,000 white South Africans will have left the country since between 2001 and 2021, at a rate of 21,000 per year.'
But – on the flip side…
South Africans Are Returning
This is the other side of the coin that we don't really talk about. We don't hear of it in the news or read of it in the newspapers:
'The researchers noted that census data between 2001 and 2011 showed that there were more Afrikaners over the age of 30 in 2011 than there were over the age of 20 in 2001, which indicated that there may have been a wave of Afrikaners returning to the country in the interim.'
'More than 400 000 South Africans have chosen to return since 2009. 85% do successfully return. In fact, there are certain aspects of life back home that perhaps only those who have left and returned can appreciate it. In many cases, this provides people with extra motivation and they end up becoming even more successful and happier in South Africa than they were before.'
'Lifestyle is one of the top three reasons given by white South Africans for deciding to go home, along with family connections and "a sense of belonging", according to Homecoming Revolution research.'
Emigration Makes A Family Poorer
Emigration is nothing new. People have been emigrating since the beginning of time. It was just much easier back then. You didn't need the documentation, the finances or the qualifications to make the move.
In South Africa, a majority of emigration started after the ANC won their first election in 1994. It affected our family greatly; especially my mother's side of the family. One family of ours emigrated to England; the father was negative towards the country and eventually influenced his children as well.
They refused to ever move back to South Africa again. They would still visit, but they brought their negative comments and views with them.
Later on, another cousin married a Canadian and moved to Canada for good. He rarely ever visits.
These family splits made us poorer, for sure.
We used to be a big family, always getting together on every occasion. But now I can't remember the last time we were all together again. I don't think we'll ever be together on the same continent, at the same time again.
We have grown apart, away from each other.
Emigration Also Makes You Richer
We almost moved overseas once. I remember that time distinctly. It was the year 2007 when Eskom first started giving load shedding troubles. My sister and I had just finished school, so we were looking to study at university.
My father got a job offer as a senior pastor at the CRC Church in Perth, Australia. I was excited, of course. This means that I would get to study Bachelor of Arts in Creative Writing, something that is not available in South Africa (it is only available as a Master's Degree).
My parents flew to Australia and visited the church. They found a house for us, universities for both me and my sister, as well as a school for my brother.
I often think about how different our lives would've turned out if we had moved there.
My parents came back, we sold the house and most of our furniture, and booked the tickets.
Two weeks before we were set to leave, my parents woke up one morning, looked at each other, and decided not to go. They just had a gut feeling.
We ended up staying in South Africa.
I was upset because I had my heart set on studying creative writing there.
Why Are You Going?
My father once said something that has stuck with me since:
'It's okay to emigrate, but don't let fear be the motivating factor for why you're going. You must do it for the right reasons.'
What then, is the right reasons?
Is safety a good reason?
I lived in the US for nine months from September 2016 till May 2017. When I got there, I hadn't realized just how much I had been living in fear in South Africa. Actually, fear is not the correct word. Everywhere I went in South Africa, I had to be aware of what was going on around me at all times.
When I drove in my car, I had to make sure I didn't end up in dodgy areas (human trafficking & kidnapping). When I stopped at a red light, I would automatically check the cars around me (carjacking). Or if I was the only one stopping at a red light, I would drive on (hijacking). I never kept my handbag next to me in my car (robbery). Also, when I parked, I made sure there were no other viewable items in my car (robbery).
When I walked into the malls, I checked to see that no one was following me. When I went to the bathroom, I would be highly alert at who was in the bathroom with me. In restaurants or fast food places, I checked to see who came in and who left.
Whenever there was anything dodgy going on anywhere at any time, I would abort my mission and leave immediately.
Living in South Africa means you have to be street smart, alert and always aware of what's going on.
When I arrived in America, I felt like I could relax a bit at least. South Africa's newspapers have reports of crime and murder every single day, but in Redding, there was no such thing. It felt like a safe and secure place.
Until one Wednesday morning, 2 November 2016.
Sherri Papini, a Redding native, went jogging that morning. She was 34 years old and a mom of two kids. Two women kidnapped her. It looks like it was a typical human trafficking case.
The whole of Redding was shaken by this crime, and everyone prayed for her safety and for her to return. I was at a Bible School at that time – Bethel School of Supernatural Ministry at Bethel Church – and we all prayed for Sherri every day.
Eventually, Sherri was found three weeks later, on Thanksgiving Day.
But I didn't feel safe anymore. The idea that I had had that America was safer, came crashing down. I realized: You have to be street smart everywhere you go, no matter where you are, no matter in what country you live in.
What about better work opportunities? Is that a good reason to move to another country?
I wrote about my experiences as a white young woman living in South Africa in my essay Disturbed By Dust.
The bottom line is that many white South Africans think and experience that there are no opportunities left for them in South Africa, because of a new government that wants to give the jobs to black, colored and Indian people.
Many white South Africans are choosing to go overseas because of better salaries and work opportunities. My sister and her husband will soon move to China, for this very same reason. They will get better pay and better job opportunities. They plan on raising their kids as well.
What Is My Heritage?
At one stage, my father had a desire to find out what the Fourie surname meant. We were at a bazaar once, and there was a stall that had the meaning of surnames engraved on keyrings. Fourie has different meanings. On this keyring, it said, 'Maaier of verkoper van hooi of voer,' which roughly means 'planter or seller of hay or feed.'
When you Google it, two other meanings pop up: 'gift of God' or 'dealer in forage.' Forage is a verb and it means to 'search widely for food or provisions.'
This is also where we first heard about our forefather Louis Fourie, a farmer who emigrated to the Cape of Good Hope in 1688. He eventually settled in Wellington and started farming in Wagenmakersvallei.
I remember distinctly that when my father heard about this, it was an 'aha' moment for him, a moment of clarity and belonging.
A few years later, we visited a museum and there were book archives of immigrants who had come to South Africa many years before. My father's grandmother had emigrated from Italy, and he wanted to find out about her. He went to the archives, gave them her name, and the archiver easily found it for him. Right there, on paper, was her full name, when she came and where she came from.
This was another moment of clarity, a sense of finding one's roots for my dad.
Let The Research Begin
All these happenstances, as well as all the talks of emigration and moving to other countries, has made me consider my own roots and where I come from.
I was in a school that was based on a curriculum from the United States of America called A.C.E. (Accelerated Christian Enterprise). Because of this, I learned about European and U.S. history, and unfortunately, I ended up not learning about the Boer War, the Dutch colonies or any of my Afrikaans heritage.
This week, I decided to look up my French heritage, the Fourie clan. As I started researching, I was blown away by the rich history that my forefathers and ancestors brought into the country. It has made me proud to be a Fourie.
I enjoyed researching the French Huguenot history so much, that I am definitely going to make more of an effort to learn about my heritage and where I come from.
I now believe that it is important to know these things. It fills in the blanks. It has helped me as an individual to understand myself, and it also releases peace about the unknown future and what it will bring.
I also found some website articles where certain writers link the Protestants and John Calvin to Freemasonry. I do not know which is the truth, but I do know that I am a fruit of the choices that they made, and I bear good fruit. I believe in God, Jesus and the Holy Spirit, and I have a living relationship with Them.
Because of who I am, I believe that the French Huguenots were truly born again, even though they might've had some errors in the beliefs and the choices that they made. No one is perfect, and that is why we need a Saviour to help us stay on the right path.
I am proud of my heritage.
*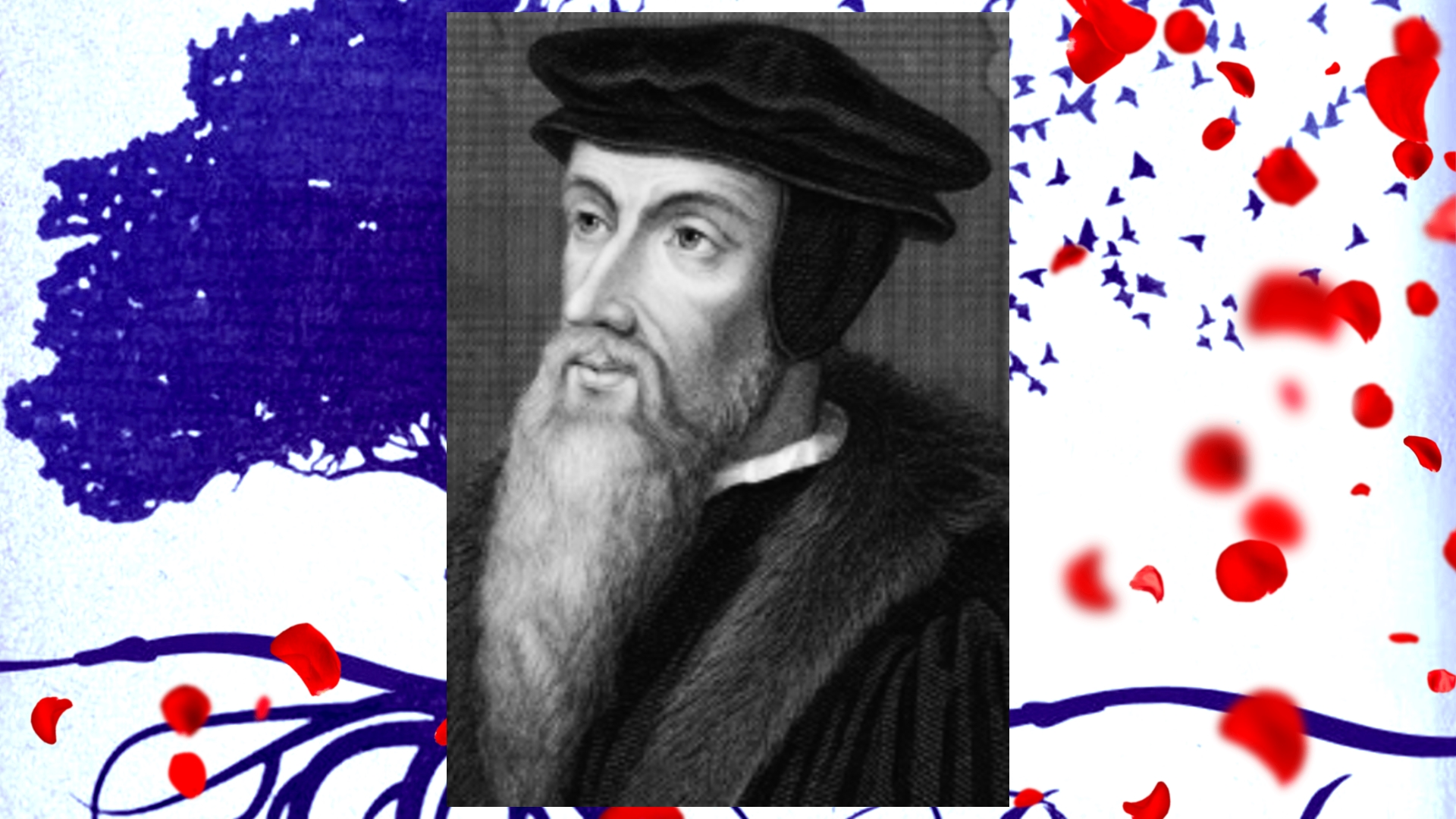 The French Huguenots
In 1550, John Calvin, a French theologian, pastor, and reformer, established the Reformed Church. These members were Protestants who wanted to break free from the Roman Catholic rule. Thus, they began to call themselves the French Huguenots.
'True repentance consists of a change of heart, a conversion, a return to God – a movement initiated by the Holy Spirit and not stemming from any bodily fear, chastisement or sacrifices…'
Jacques Lefèvre d'Étaples, a precursor of the French Protestant movement
This theology led to a revival in France. The Protestants' motto during the Reformation was the following – and it is truly beautiful:
'After darkness comes light.'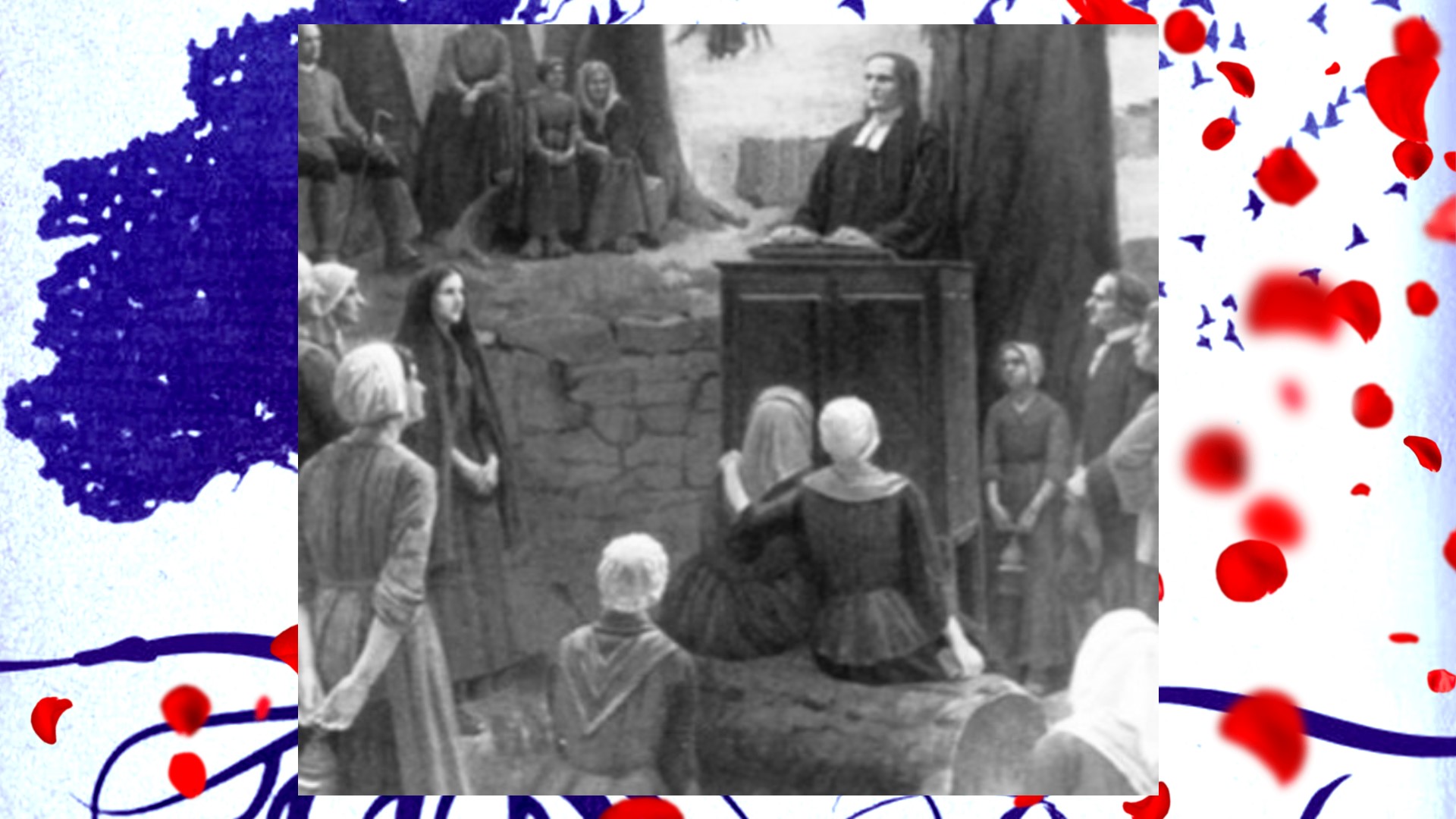 Persecution
The French king – Louis XIV – was not pleased about this radical transformation that had taken place in his country. At first, he tried to convert the Protestants back to Catholicism. His plans didn't work, so it quickly got ugly.
The penalties for preaching or attending a Protestant assembly were severe: life terms in the galleys for men, burning at stakes, imprisonment for women, and confiscation of all property were just some of the penalties.
'The Huguenots were a people of steadfast faith, unshakeable in their stand for Protestantism and very resilient. Their determination and deep conviction is a hallmark of this group of Protestant people…
The Edict of Nantes was replaced by the Edict of Fontainbleau in October 1685 and this emphasized hatred of the Huguenots. They were forcibly obliged to give up their Psalm books and their Bibles were burnt. In case some were planning another emigration, the authorities declared that all emigration was illegal.
The Huguenots, however, were not so easily discouraged, these strong steadfast people decided to flee. Forget about the new laws, their minds were made up!
A few of them temporarily swore allegiance to Rome for their own safety; until they too made their escape from France. Some of the people who departed did so in disguise, often at night, usually on foot. They were a great loss to France for many of them were looked upon as the cream of the nation at that time.'
Margaret K. Kilner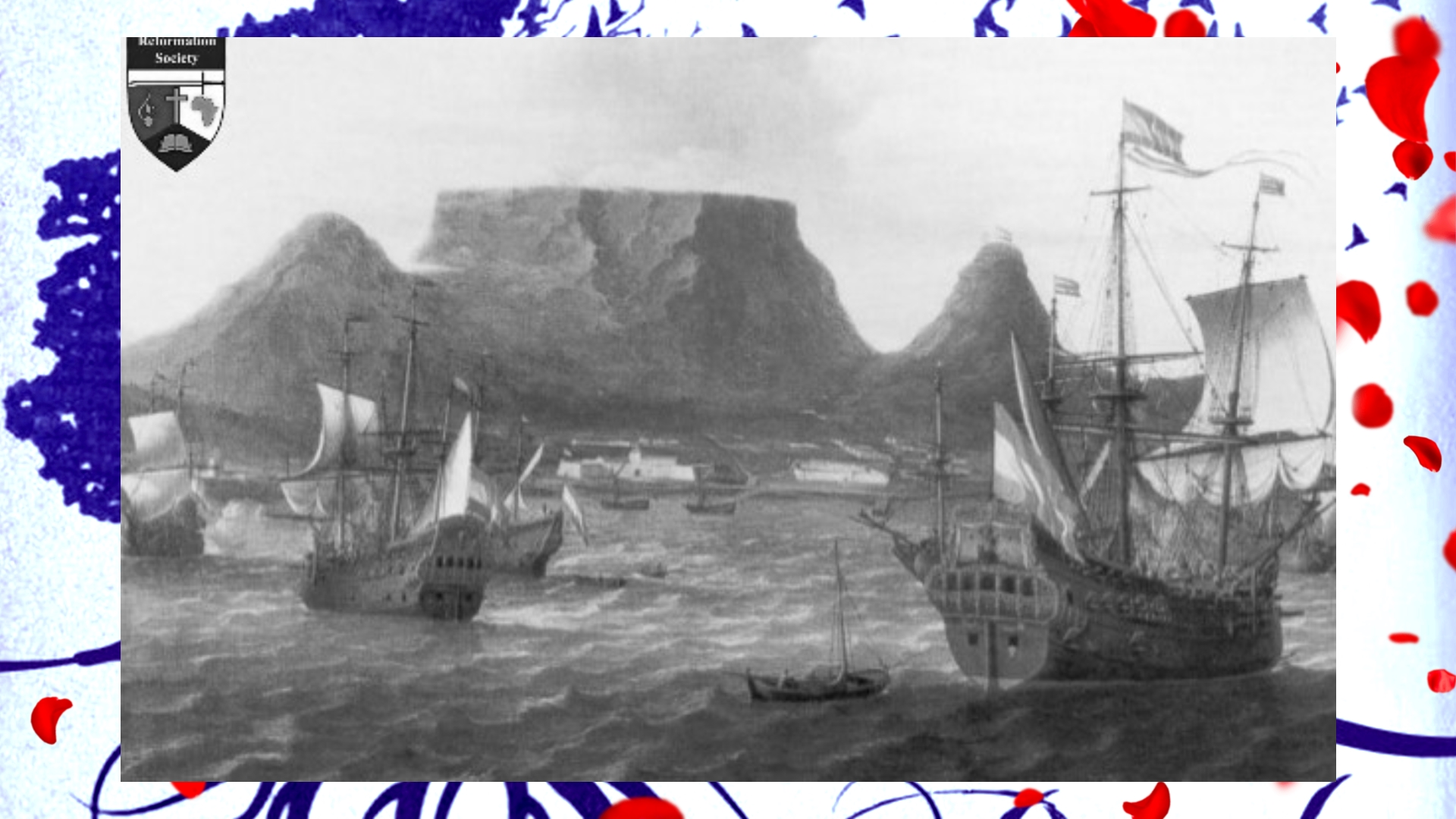 Emigration to South Africa
Because of the persecution, at least 250 000 French Huguenots fled to countries such as Switzerland, Germany, England, America, the Netherlands, Poland, and South Africa.
Louis Fourie, my forefather, was from Pontaix in the province of Dauphiné, in the southeast of France (which is now roughly the areas of Isère, Drôme, and Hautes-Alpes).
Louis first fled to Holland with a group of French Huguenots. About a year later, they left Amsterdam on the ship Walloon on the 21st of December, 1687. They finally settled in and around what was then a wilderness called Olifantshoek (later renamed Franschoek).
In 1692 a total of 201 French Huguenots had settled at the Cape of Good Hope. Most of them settled in an area now known as Franschhoek ('French Corner'), some 70 km outside Cape Town, where many farms still bear their original French names.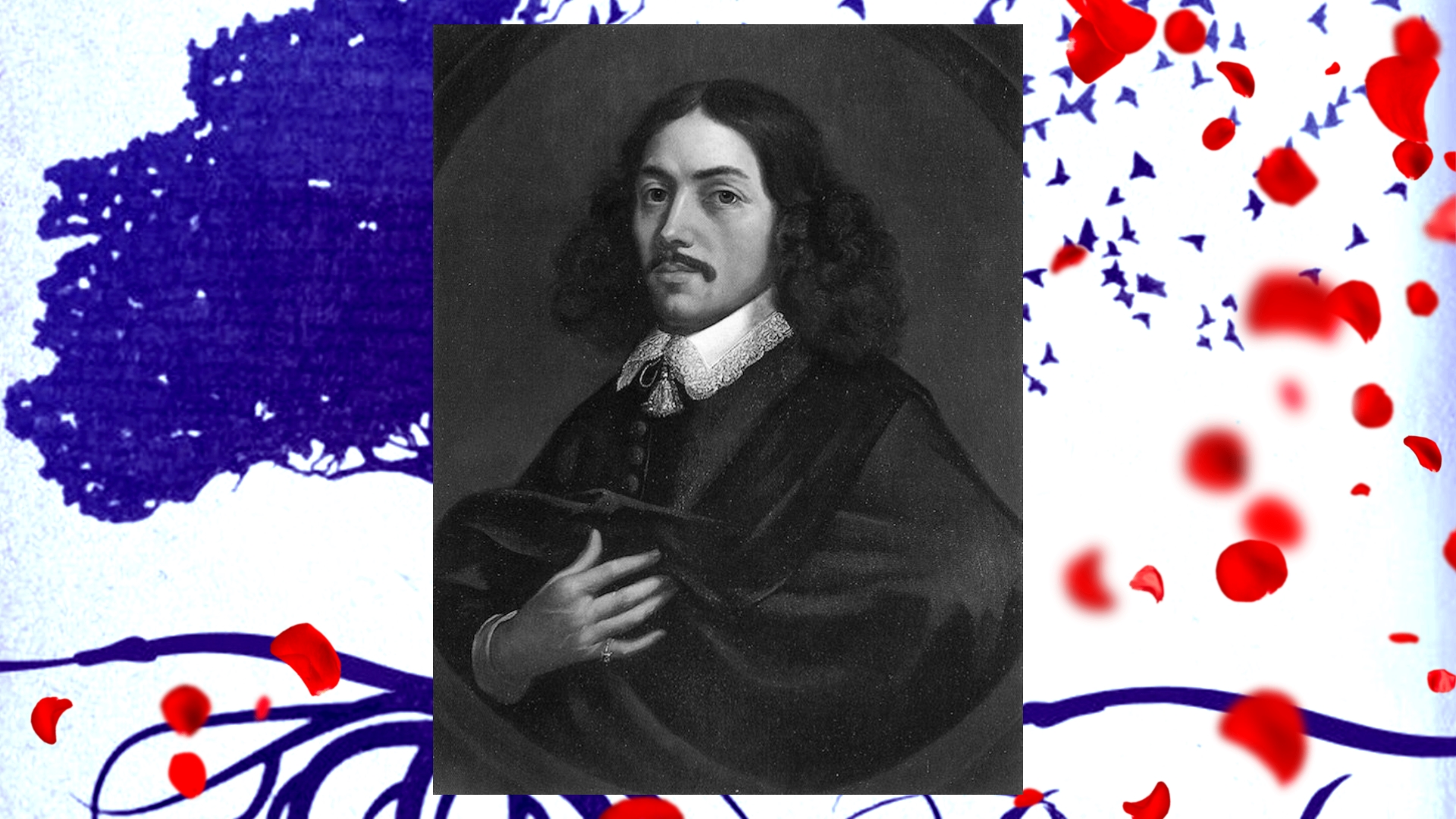 The Actual Beginning
Jan van Riebeeck was a Dutch navigator and colonial administrator, and he established the Dutch East India Company in Cape Town. He came to South Africa on 6 April 1652 and opened up South Africa for all the European settlers who would soon follow thereafter.
'The Dutch East India Company regarded the spreading of the true faith as part of its task. Its ships always carried a minister or sick comforter on board 'in order that the name of Christ be spread and that the Company's interests be properly promoted.'
The Company did 'not only want to colonize but also evangelize'.
Its formal prayer for every country in which they operated was, that God might help them to 'spread and proclaim your true Reformed Christian doctrine… to the glory and praise of your Holy Name and the welfare of our principles.'
In 1687 the council of the Dutch East India Company decided to encourage French Huguenot settlers to go to the Cape and engage in farming and trade.
These settlers were offered free passage, as much land as they could cultivate, and implements and seed which they would only have to repay after the first harvest. The only condition was that they stay for 5 years, otherwise they would pay their own fare back.'
Simon van der Stel, the governor, said:
'The French refugees will be received with Christian love and compassion and will be offered a helping hand in everything as far as our modest means will allow.'
So the newcomers received food, the use of a wagon to journey to their farm, cattle, and sheep for meat and for breeding, and some money (even from the church charity fund of Batavia).
They were given farms along the Berg River.
Ten families were settled in Olifantshoek (now Franschhoek), 21 in Groot Drakenstein, 15 in Klein Drakenstein, 5 in Paarl, 11 in Wagenmakersvallei, and others as far as Tulbagh and Piketberg, altogether an area as big as Holland.
They had to cultivate the virgin ground and fight off lions and leopards. Ten percent of their produce was to be paid in taxes, and they had to plant oak trees to stop deforestation.'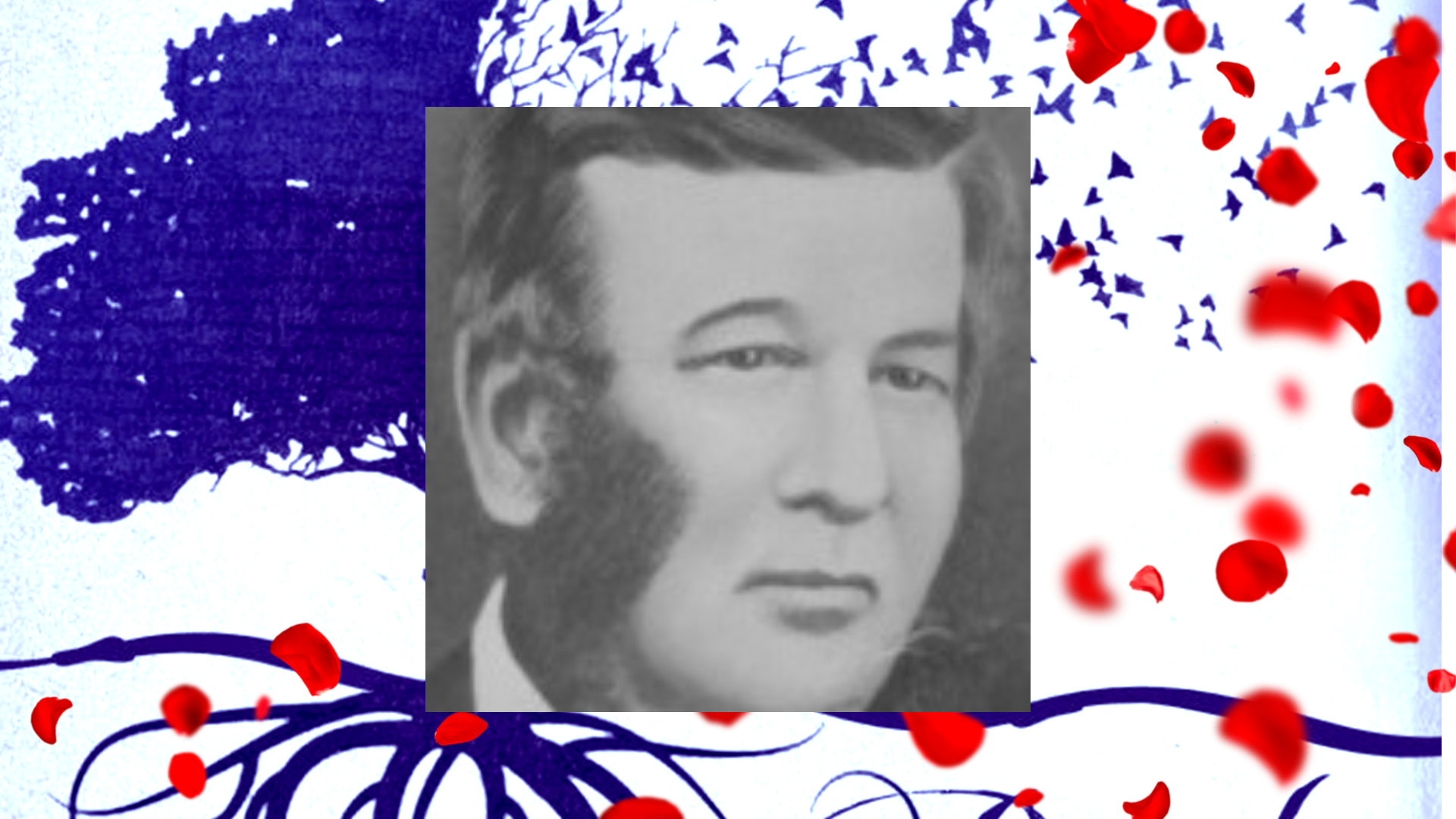 Settling in Wellington
Louis Fourie farmed in Wellington, and sometimes he registered his name as Florit.
His first marriage was to Susanne Cordier, and they had 10 children together. Susanne was a French Huguenot as well and was born in 1678 in Champange, France. She passed away in November 1714 in Heidelberg and was buried on the farm 'Doornboom'.
After Susanne's passing, Louis married Anne Jourdan. They had 11 children together. Anne was born in 1698. She was 25 years younger than Louis when she married; she passed away in 1750. Anne was the daughter of French Huguenots.
I discovered a tragic story that happened to Anne Jordaan. When she was 14 years old, in 1712, she was raped twice by Antony from Mozambique. Anne was walking through a field to give food to the slaves, and Antony threatened her with a knife. Antony was Pieter Joubert's slave and he was sent to borrow an ax from a nearby farm when he approached Anne.
Antony was caught; he was beheaded and his head was placed on a pole at the place of the crime.
Louis was given a farm by the governor of the time, in the Wellington district, called the Wagenmakersvallei, meaning 'a place where they make wagons'.
On 28th Feb 1699 he received a grant for the land he called De Slange Rivier where he lived until his death in 1750. He also owned the farm Zeekoedrift on the Gourits river.
In his 2 Feb 1718 testament, he left the following for his children:
Two farms with houses: Slangerivier farm and Drakenstein farm. Also the Zeekoedrift farm at the Gouritzrivier. Except for all his materials, he also left 116 big and small cattle; 340 big and small sheep, and 3 horses. He also left behind four slaves.
In terms of his will, the Slangerivier were to be transferred to Louis' son Louis Fourie, who waived his right, and it was purchased at auction by Gabriel Rossouw.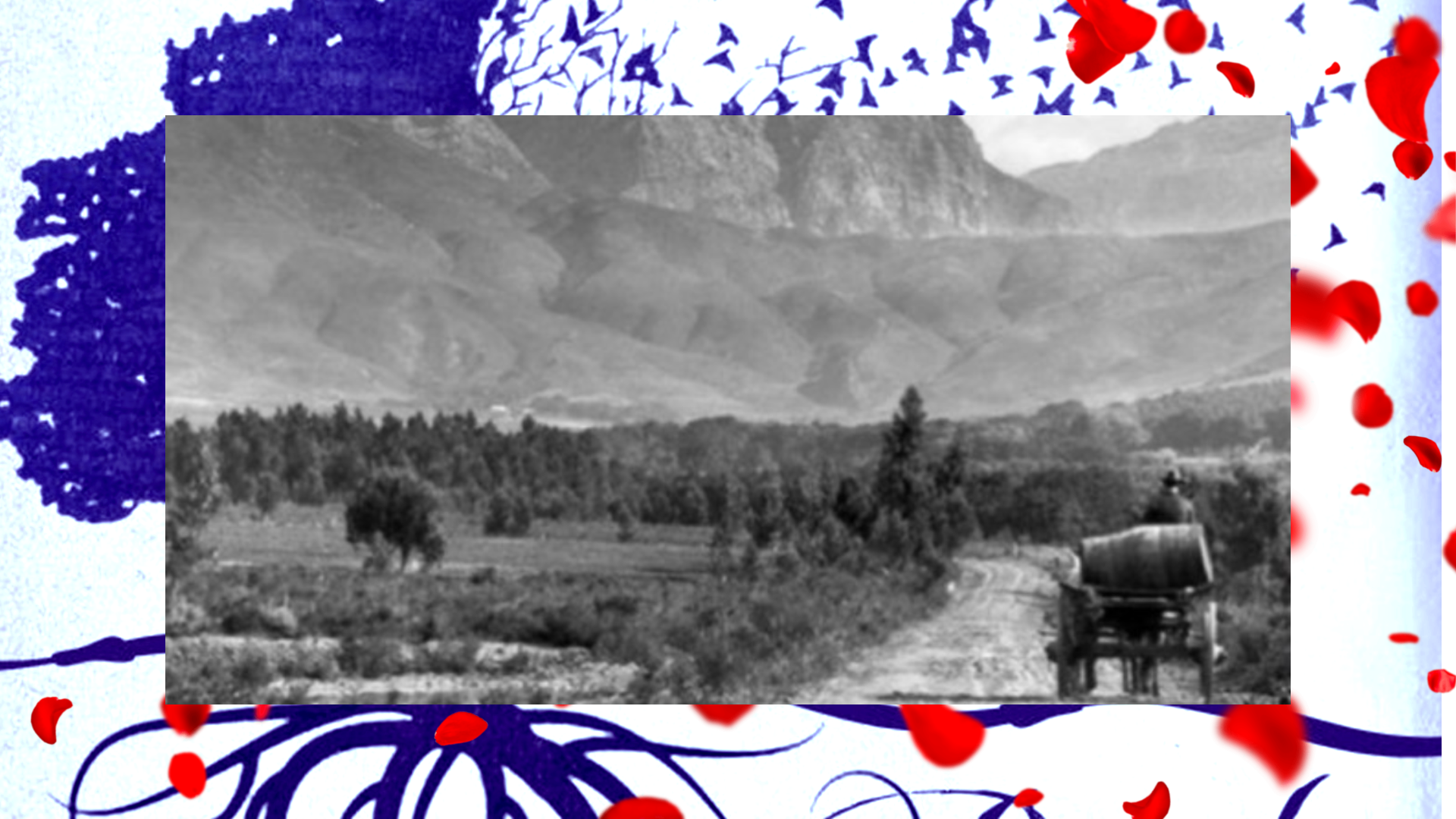 Life in South Africa
According to a source:
'The potential emigrants from Europe were allowed to take only the minimum amount of necessary luggage along. After their arrival at the Cape, they were expected to make a living from agriculture, business or by practicing a trade. If they decided to farm, they were allotted free farms, and implements, seed, and animal stock would be provided, the cost of which had to be later reimbursed to the Dutch East India Company in terms of produce or any other goods.
The Dutch East India Company encouraged the Huguenots to emigrate to the Cape because they shared the same religious beliefs, and also due to the fact that most of them were highly trained craftsmen or experienced farmers.
Initially, they concentrated on wheat and sheep farming, specifically as it would provide an income sooner that would have been the case with viticulture and oenology (the growing of grapes and making of wine, brandy, and vinegar). They, as well as their descendants, proved that they were hard-working and industrious, and their efforts later led to a marked increase in the improvement of quality Cape wines.
A number of wine estates have French names to this day, as a reminder of their important contribution to this industry in the Western Cape. The number of vine plants increased from 100 in 1655 (three years after the arrival of Jan van Riebeeck at the Cape) to 1,5 million in 1700.'
According to another source, the French Huguenots were true pioneers:
'The early years were difficult but with the visit of a missionary group from France a hundred years later the French areas were some of the best areas at the Cape with no debt. No big decisions were made without consulting an elder and the French area's had the best food and farming land.'
The French influence in the areas of religion, freedom of belief, culture, and agriculture still can be experienced today.
The wine industry in South Africa owes a significant debt to the French Huguenots, some of whom had vineyards in France, or were brandy distillers, and used their skills in their new home.
However, the French language was lost within two generations as the Dutch placed the French in between Dutch farms and prevented the use of French in schools or at church. The French in many cases married the Dutch as their religious conviction was the same and formed the earliest foundation for today's Afrikaner.
Many of the farms in the Western Cape province in South Africa still bear French names.
Many families, today, mostly Afrikaans-speaking, have surnames indicating their French Huguenot ancestry:
Blignaut, Cilliers, Cronje (Cronier), de Klerk (Le Clercq), de Villiers, du Plessis, Du Preez (Des Pres), du Randt (Durand), du Toit, Duvenhage(Du Vinage), Franck, Fouché, Fourie (Fleurit), Gervais, Giliomee (Guilliaume), Gous/Gouws (Gauch), Hugo, Jordaan (Jourdan), Joubert, Kriek, Labuschagne (la Buscagne), le Roux, Lombard, Malan, Malherbe, Marais, Maree, Minnaar (Mesnard), Nel (Nell), Naudé, Nortjé (Nortier), Pienaar (Pinard), Retief (Retif), Rossouw (Rousseau), Taljaard (Taillard), TerBlanche, Theron, Viljoen (Villion), Visagie (Visage)
'Research has shown that the contribution of the Huguenot genes to the Afrikaner people amounts to some 24%. Their descendants are proud of ancestors who sacrificed a great deal – even their country of birth – and were willing to suffer personally for their religious convictions.
The Huguenots are characterized by their intrinsic pride, diligence, and honesty. Although they strove to maintain their own identity at first, they soon intermarried with the other colonists to fully become just South Africans. Within two generations even their home language, French, largely disappeared.'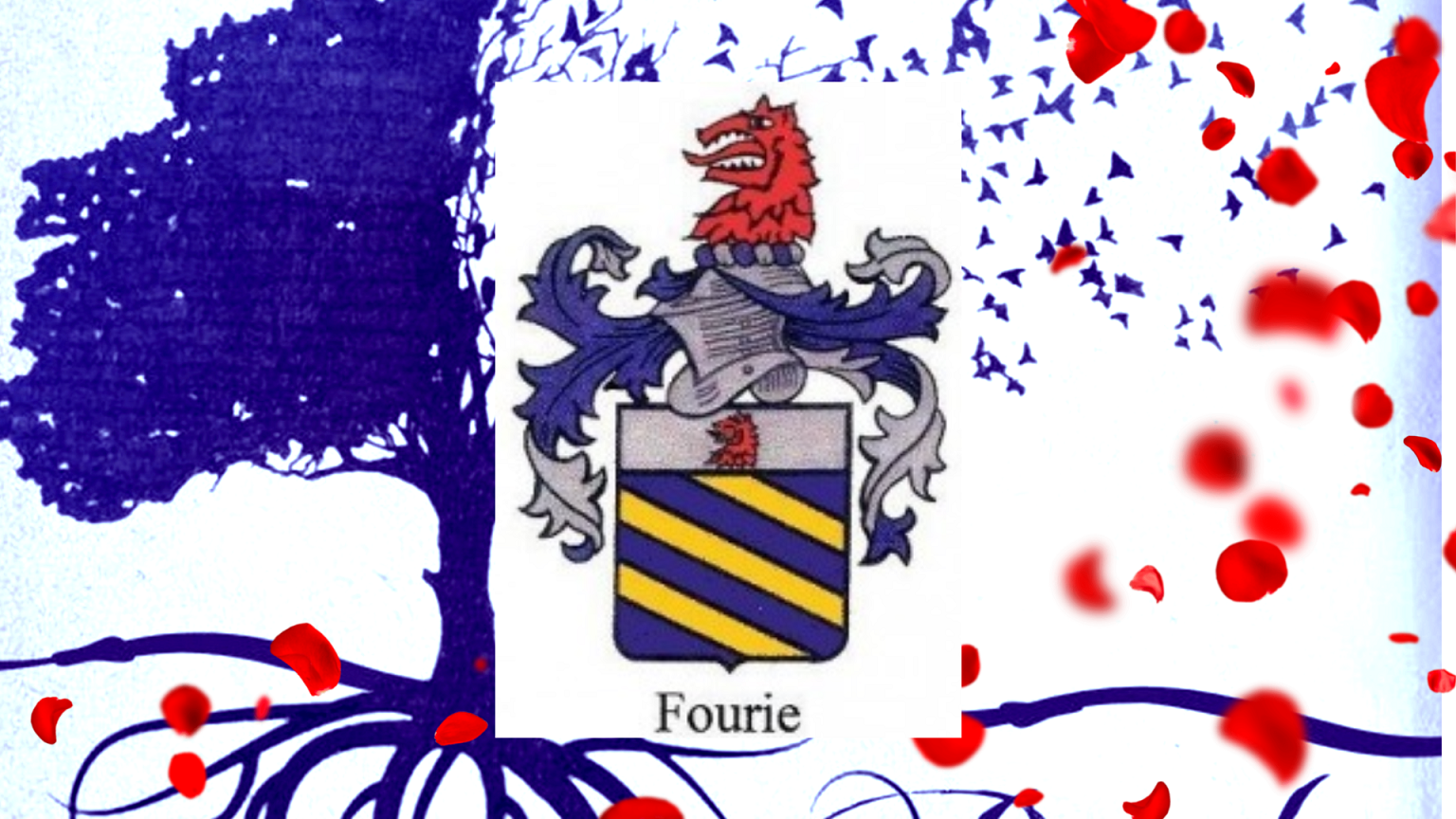 The French Huguenot Character
'A number of writers mention different characteristics of the Afrikaner nation which could be ascribed to the influence of the Huguenots: physical features such as a darker complexion and black hair, a cheerful disposition, stamina, artistic ability, individualism and a sense of independence, a love for personal and political freedom, courtesy, hospitality, humor and joyfulness, and ingenuity (the ability to make a plan).'
'What remains of lasting value, is the proud heritage of men, women, and children who suffered for a cause and followed the road of exile to retain their spiritual integrity. This was certainly true of most of the refugees, and the longing which they must have felt for the country which they left forever is reflected in the names which they have chosen for their farms which they laid out along the hills of the Western Cape: Languedoc and Provence, La Brie, Calais and Cabrières; and many others which recalled memories of images from their childhood and the roots from which they sprang.'
Maurice Boucher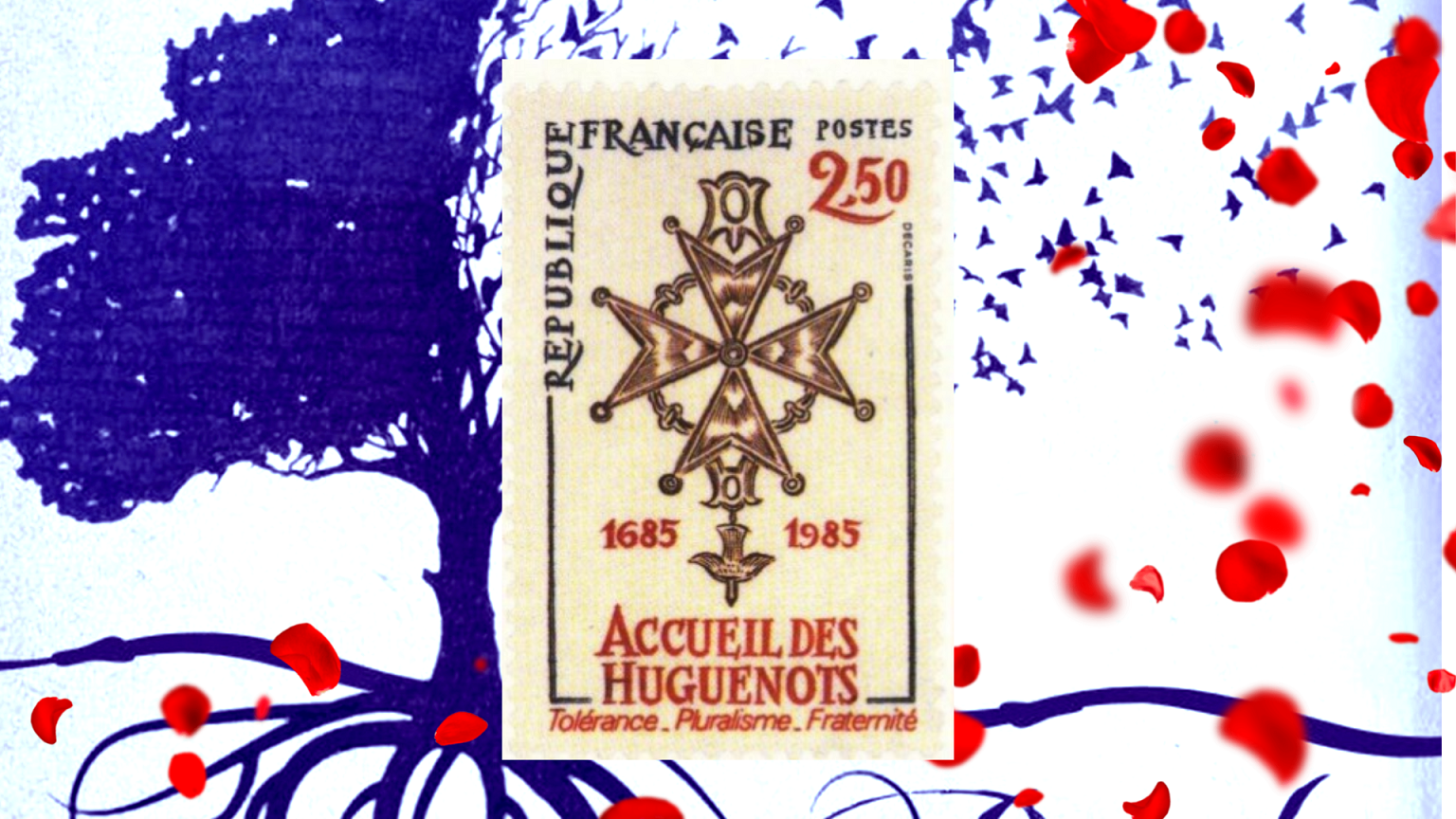 Effect on France
The exodus of Huguenots from France created a huge chasm. Most of the Huguenots had occupied important places in society. France did not fully recover for years.
In 1985, François Mitterrand, a French statesman, issued a formal apology to the French Huguenots and their descendants on behalf of the French state.
At the same time, the government released a special postage stamp in their honor reading – 'France is the home of the Huguenots' – Accueil des Huguenots.
*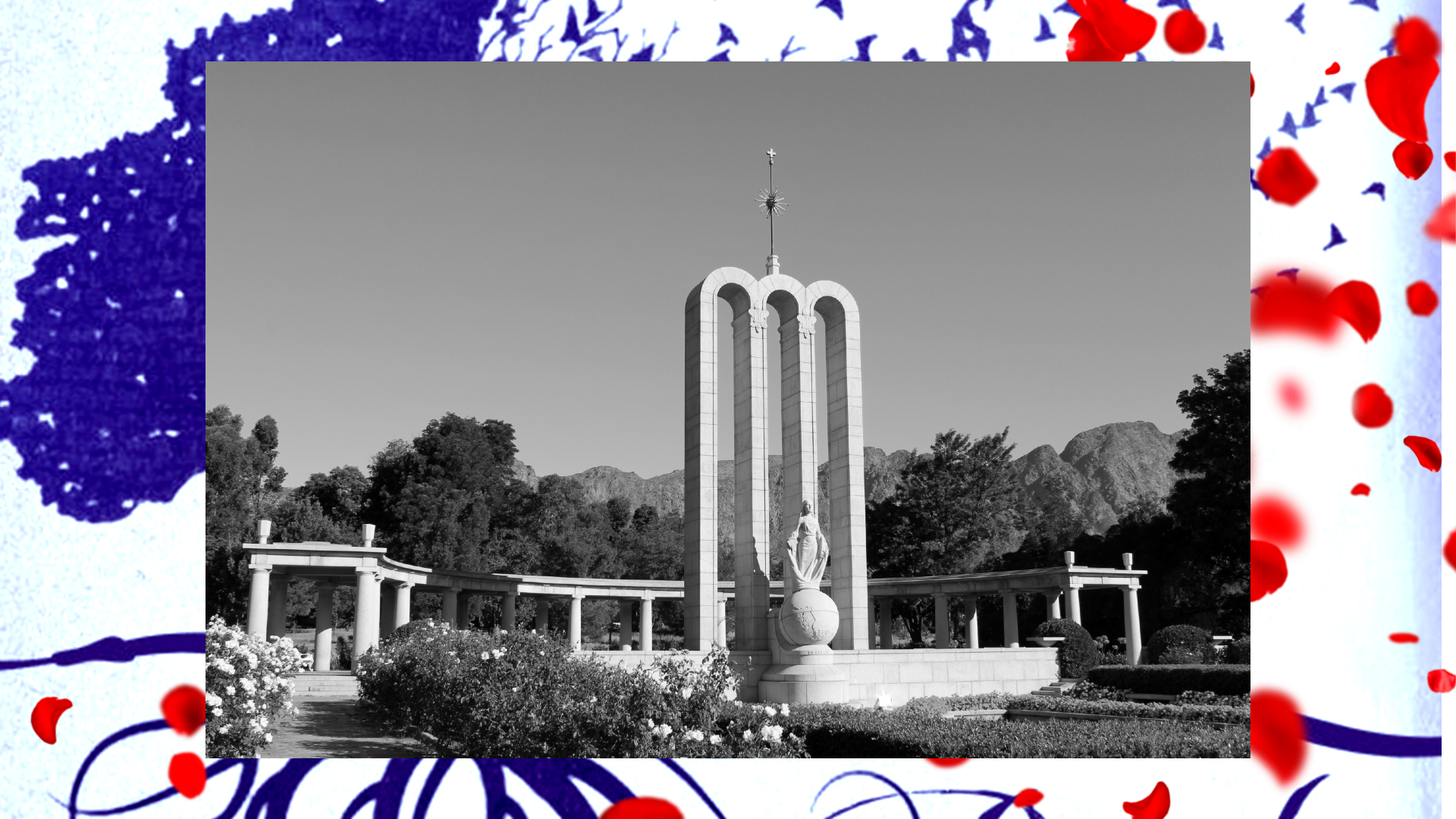 THE MONUMENT
'Even today, the whole area of Stellenbosch, Franschhoek, Paarl, Wellington, and beyond, bears the marks of a Huguenot culture. It abounds with Huguenot names, Huguenot institutions, Huguenot museums, and Huguenot memorials. The spirit of the Huguenots is still alive even after more than 300 years after their arrival.'
The Huguenot Monument
'Nowhere on earth is the legacy of John Calvin stronger than in South Africa, where the spirit of John Calvin has not waned due to the influence of the twentieth century, as has been the case, and still is the case, in the countries of Europe.'
D'Arbez
The Huguenot Monument in Franschhoek, Western Cape, South Africa, is dedicated to the cultural influences that Huguenots have brought to the Cape Colony (and ultimately the whole of South Africa).
The three high arches symbolize the Holy Trinity: the Father, Son, and Holy Spirit. On top of the arches is the sun of righteousness and above that, the Huguenot cross of their Christian faith.
The central female figure personifies religious freedom, holding a bible in one hand and a broken chain in the other. She is casting off her cloak of oppression. Her position on top of the globe shows her spiritual freedom. The fleur-de-lis on this woman's robe represents noble spirit and character.
It was long the symbol of the French monarchy, still in power at the time of the Huguenot exile.
The southern tip of the globe shows the symbols of their religion: the Bible; art and culture: the harp; agriculture and viticulture: a sheaf of corn and grapevine; and industry: spinning wheel for silk and cloth weavers.
The water pond, reflecting the colonnade behind it, expresses the undisturbed tranquillity of mind and spiritual peace that the Huguenots refugees gained in South Africa after dealing with violent religious persecution in France.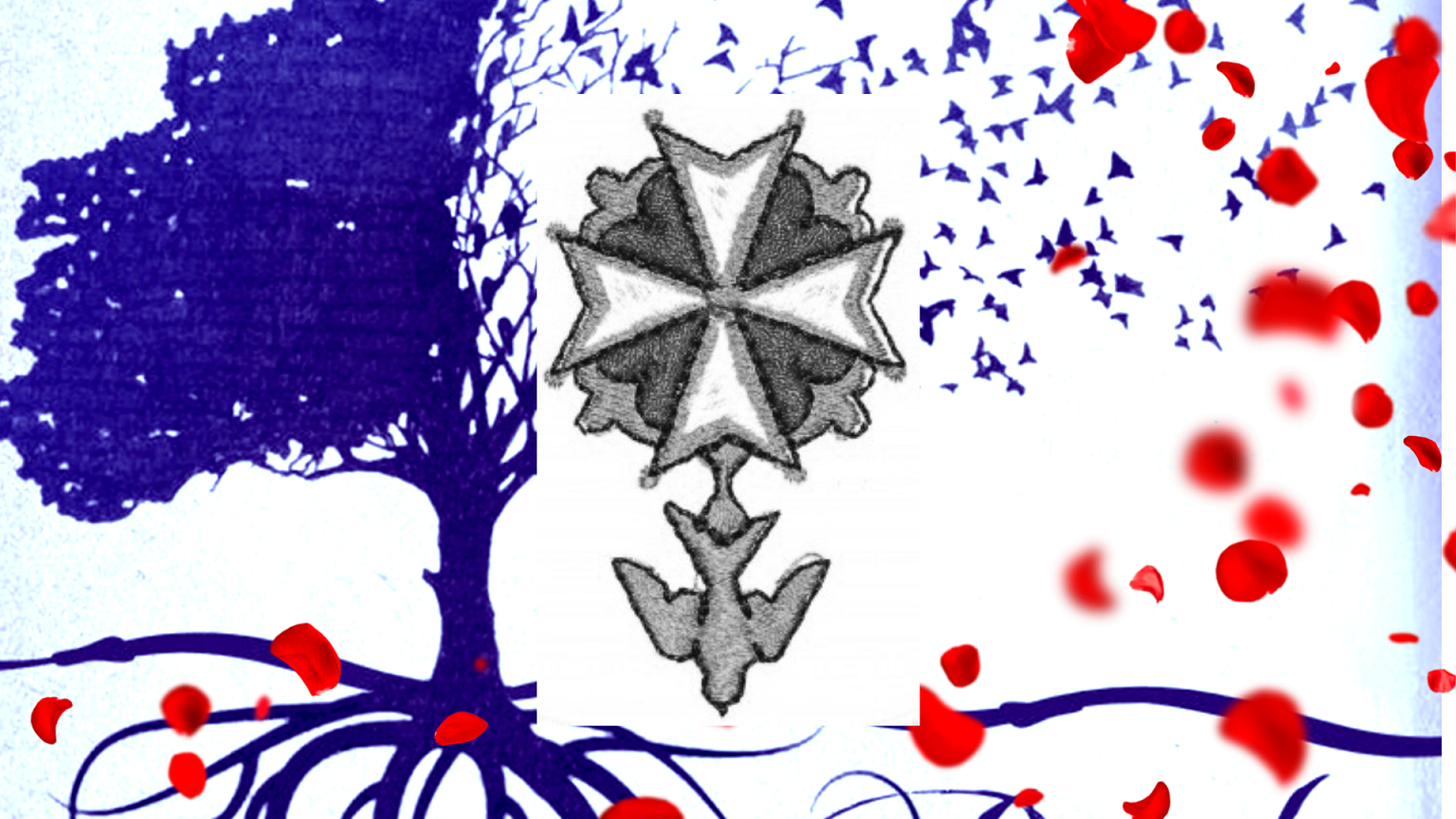 The Huguenot Cross
The cross as an eminent symbol of the Christian faith represents not only the death of Christ but also the victory over death and impiety.
The eight points symbolize the eight Beatitudes (Matthew 5:3-12).
Between the arms of the cross, the stylized fleur-de-lys (which on the French Coat of Arms represent the Trinity) represent the crown of thorns. The fleur-de-lys together with the arms of the cross form the shape of a heart, which symbolizes the sufferings of Christ.
The pendant dove symbolizes the Holy Spirit (Romans 8:16)
*
In closing, I would like to share two poignant songs that have been on my mind since I started researching and writing this essay.
The first one is by Sara Groves. 'Painting Pictures Of Egypt' is a song about change, movement, and outgrowing where you've been placed. It can be hard sometimes to know when to go and when to stay, especially when you've got pioneer blood inside of you. This song is aptly titled, as it references to the Israelites when they left Egypt for the Promised Land. They had prayed for this so long, and when it finally happened, they sometimes wished they could go back to when they were slaves.
The second one – an Afrikaans song by Liani Reynolds – is about pilgrims and how we will always find our way home. Poetically written by Amanda Strydom.
Painting Pictures Of Egypt by Sara Groves
Pelgrimsgebed deur Liani Reynolds (geskryf deur Amanda Strydom)
Sources & References:
Can Afrikaans Culture, Afrikaners 'As A People' Survive? Little Chance, Says Leading Historian
South Africa's White Population Is Still Shrinking
South Africa's White Population Is Shrinking – Here's How It Could Look Over The Next 20 Years
This is who is emigrating from South Africa – and where they are going
South African Expats Are Returning Home
Why White South Africans Are Coming Home
The Huguenots – Their Faith, History, And Impact
The Contribution Of The Huguenots In South Africa
The French Huguenots – Slideshow
Die Franse Hugenote: Erfenis Van Geloof
The History of the French Huguenots at the Cape of Good Hope