From 2016-2017, Vicki attended BSSM (Bethel School of Supernatural Ministry) in Redding, California.
She launched JSSM (Jeffrey's Bay School of Supernatural Ministry) in Jeffrey's Bay in February 2022.
For more info, visit JSSM's Facebook & Instagram Page.
*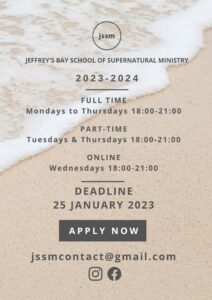 Jeffrey's Bay School of Supernatural Ministry (JSSM) is the only full time, part-time & online BSSM school in South Africa.
FIRST YEAR 2023 | 2024
The First Year Full Time Program will start in February 2023. It will conclude the 30th of November 2023 (10 months in total).
We will follow the term schedule of the South African Education Department.
Full Time students will gather from Mondays to Thursdays, starting at 17:30 until 21:30. It will take place at Global Leadership Academy in Jeffrey's Bay, South Africa.
The First Year Part-Time Program will also start in February 2023, and will run for two years. The Part-Time students will join the Full Time students on Tuesdays and Thursdays, from 17:30 till 21:30.
*
First Year primarily focuses on embracing the fullness of our identity in Christ, developing deeper intimacy with God and community, learning how to live out the values of the kingdom with a solid biblical understanding, developing spiritual gifts, and learning how to walk in purity and power through the Holy Spirit.
During these sessions, students will either engage with live lectures (by esteemed ministers of the gospel and BSSM alumni) or watch video teaching sessions from the Bethel School of Supernatural Ministry (BSSM).
Students will also engage in small group discussions with the purpose of reflecting, practically applying what was learned, or to review/discuss new insights.
During these discussions, students will also pray for each other, build community and receive prophetic ministry.
*
BOOK READING
Reading is a large part of our curriculum. Full time Students will read five books in 2023, and Part-Time students will read 3 books. Each student will be required to complete book reports for each book. Students are expected to read at least 1.5 hours each week. The full book list will be given at the start of the school year.
Purchasing these books will be at the student's expense. All books will be available for purchase at Takealot, Loot, Amazon, Kindle, etc.
HOMEWORK
Homework at JSSM is focused on personal transformation. The aim of homework is to give students opportunity to reflect on what they have learned and to internalise the concepts and revival culture taught at school.
Homework is also an opportunity for the hungry heart, soul and mind to be satisfied by the wisdom of God and to be filled with the Holy Spirit.
While there are no grades given, participation, excellence, and timely completion of homework is expected of each student.
Homework for 2032 includes book reading, writing of book reports and completing tasks.
OUTREACHES
Students will attend 6 Saturday Activations/Outreaches per school year. Students will practise what they have learned.
The Saturday meetings consist of a meeting and then an outreach into the student's immediate community.
Besides Saturday outreaches, students will be encouraged to participate in outreaches at their church or with other organisations/ministries in their community.
*
COURSE CONTENT
The First Year Program is designed to create an environment where students can safely take risks as they learn and develop a lifestyle of character and supernatural ministry.
Our courses focus on:
Identity:
These

courses

teach

students

about

the

power

of

their

personal relationship

with

the

Trinity

and

the

spiritual

practices that

form

and

strengthen that relationship.
Intimacy:
These

courses

teach

students

about

the

characteristics

and

nature of the kingdom and how to cultivate kingdom culture in different spheres.
Kingdom Culture:
These courses

teach

students

how

to

live

supernaturally

and

how to grow in spiritual gifts and practices such as healing, prophecy, evangelism, intercession, deliverance, prayer ministry, and more.
Supernatural Living:
These courses teach students about how to steward their heart and

emotions

and

give

them

tools

for

communication

and

feedback

in

order

to cultivate healthy relationships and community.
Relationships:
These courses teach students how to step into and walk in

Christ's freedom.
*
FULL COSTS:
Application Fee: R350.00 *Non-refundable
Tuition:
Full Time R2,000 per month for 10 months (One Year)
Part-Time R1,000 per month for 20 months (Two Years)
Online R500 per month for 9 months (One Year)
*Please budget separately for the 5 books that will be
compulsory reading for the year.
Banking Details:
Quantiqet 7 PTY LTD
FNB
62884030596
Check Account
*Please use your full name as reference
HOW DO I APPLY?
Email us at jssmcontact@gmail.com to receive the application form.
Deadlines for applications: 30 November 2022 at midnight.
CONTACT US
Email: jssmcontact@gmail.com.
Facebook: Jeffrey's Bay School of Supernatural Ministry (JSSM)
Instagram: @jssm_southafrica
WE LOOK FORWARD TO RECEIVING YOUR APPLICATION!